Due to the extreme rise in shipping costs all shipments to Hawaii, Alaska, Puerto Rico and all other countries outside of the United States MAY BE SUBJECT to additional shipping fees at time of actual shipment. Oversized shipments may be subject to additional shipping fees.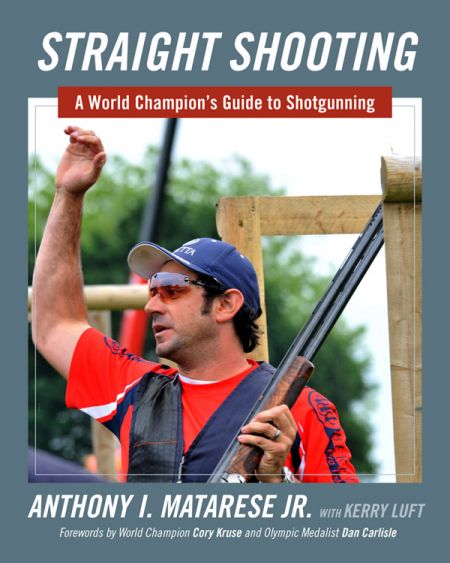 Straight Shooting
By Anthony Matarese I. Jr. with Kerry Luft 
Straight Shooting teaches you everything you need to know about Sporting Clays, including:
Must have equipment
Shooting Fundamentals----from gun mount to executing the shot
Advanced methods and tactics for top-level competition
Two-time world champion and renowned instructor Anthony I. Matarese Jr. offers his complete guide to shotgun shooting, from your very first shot to the highest level of sporting clays.  Beginners and experienced shooters alike will discover how to improve from one of the worlds most respected shooters and coaches.
Anthony I. Matarese Jr. is the first American to win the World English Sporting Clays Championship and the first person to win the sport's four biggest tournaments: the World English, the World FITASC, the National Championship, and the US Open.  He is also one of the world's leading shooting coaches and instructors, and with his family runs M&M Hunting and Sporting Clays, a premier shooting destination.
Hard Cover 320 pages
---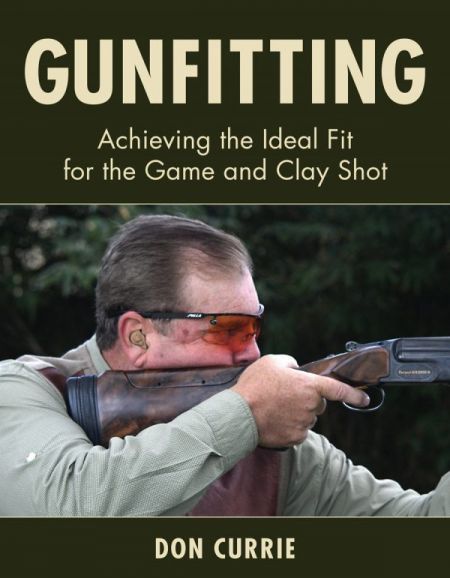 Gunfitting: Achieving the Ideal Fit for the Game and Clay Shot
New book by Don Currie
Expert shooting coach, teacher, and competitor Don Currie delivers a solid book on gunfitting based on a lifetime of experience gained from working with Orvis and Purdey.  Don knows that shooting with a properly fitted shotgun is critical to a shooter's success, and he delivers on the art and science of fitting proper shotguns. The science requires the gunfitter to understand the structure of the shooter's body and what stock specifications are need to accommodate the shooter's physique. To master the art of the process, the fitter must understand how shooters shoot and how the eye and brain see and read the target. The fitter must critically evaluate the shooter's stance, mount and level of experience along with taking into consideration the shooter's discipline and style and how the shooter will develop and evolve.
---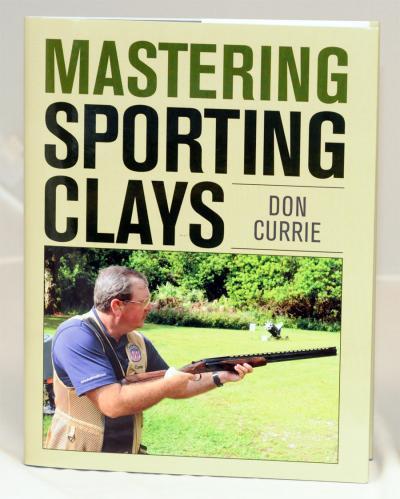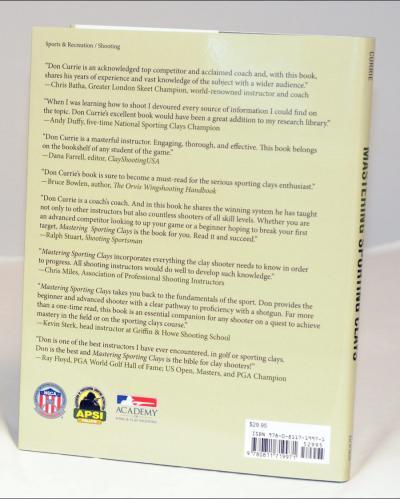 Mastering Sporting Clays
With so many instructors of sporting clays making claim to teaching the newest and/or best method for achieving higher, more consistent scores, it is often difficult to determine what is best for you. Clarity is what Don Currie, the NSCA's Chief Instructor, provides in his new book, Mastering Sporting Clays. Don's clear, concise and easy-to-absorb instructions are supported by his detailed descriptions of the fundamentals as well as the advanced techniques of sporting clays.
All the critical elements from eye dominance to proper gun fit to learning how to self-analyze your misses are discussed in detail. Whether you are a Master Class competitor, a casual shooter, avid upland bird hunter or novice sporting clays enthusiast, Mastering Sporting Clays will start you on the right path to fulfilling your potential in the sport.
Hard cover. 221 pages.
---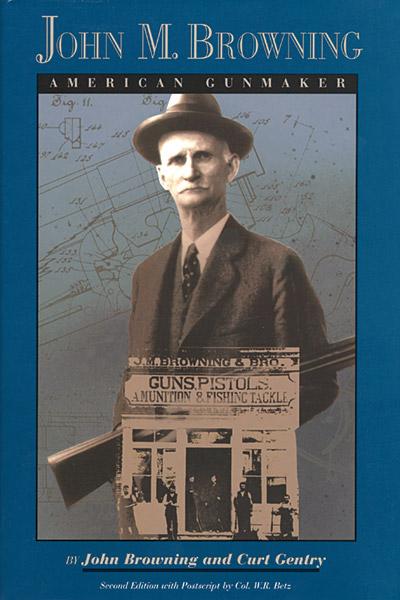 John M. Browning - American Gunmaker
by John Browning & Curt Gentry. Details the incredible life of John M. Browning, the world's greatest gun inventor. Includes pictures of every gun he invented with full description and chronological history. Hard cover, 390 pages.
NEW EDITION
---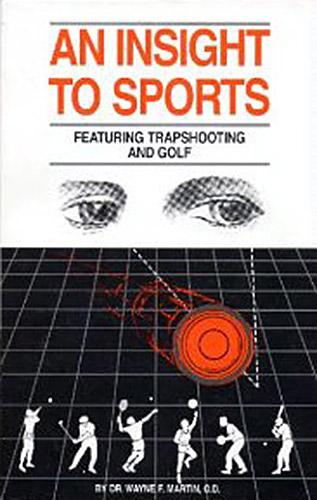 Insight To Sports, Featuring Trap, 4th Edition
by Dr. Wayne F. Martin, O.D. One of the most sought-after books by trap and skeet shooters.
Improving your eyesight performance and learning how to see targets quicker are just a part of what this great book  will teach you.
Soft cover, 183 pages.
---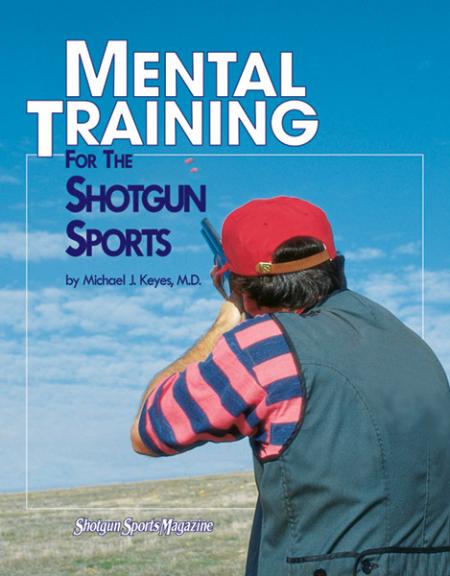 Mental Training For The Shotgun Sports
by Michael J. Keyes, M.D. Good shooting is 90% mental and 10% equipment! Comprehensive book on what it takes to consistently win. From the popular column in Shotgun Sports magazine. Will guide you to increased enjoyment and higher scores. Soft cover, 160 pages.

Now available in an online version.
---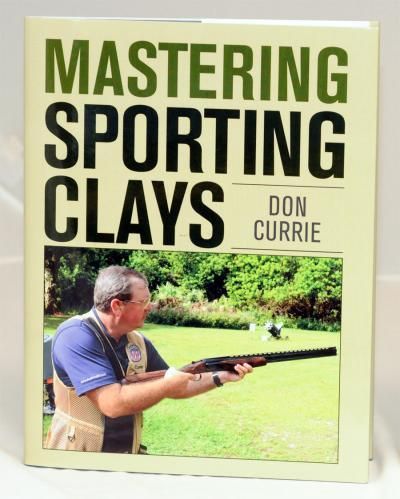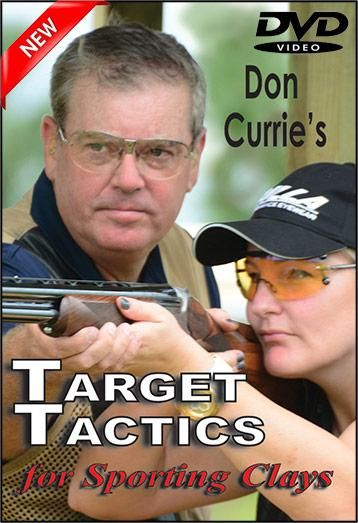 Don Currie > Book and DVD Combo
Don Currie's Target Tactics for Sporting Clays - DVD
$69.95 -- 90 Minutes
Mastering Sporting Clays - Book
$29.95 -- Hard cover. 221 pages.
$99.90 Total Value — now only $85.90
 (You save $14)
---