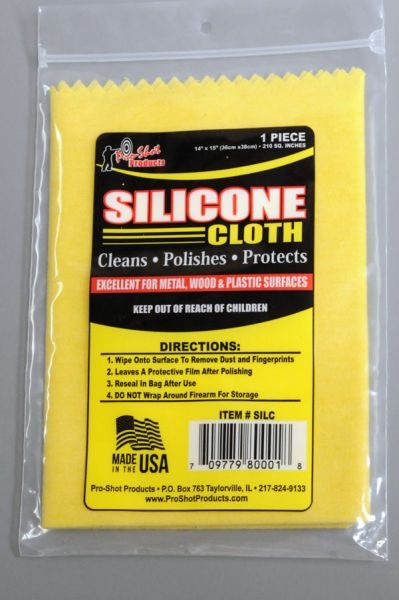 Silicone Cloth
Made of durable cotton flannel and impregnated with silicone, the double-treated Silicone Gun Wiping Cloth cleans off dust and fingerprints while polishing your barrel and leaving a protective silicone film. 
Large 14" x 15" cloth comes in a reusable zip-lock bag so it won't dry out.
---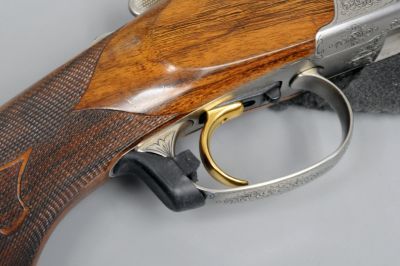 Bumper Buster Trigger Guard Rubber Corners
Eliminates banged and bruised fingers caused by gun recoil and stops flinching.  Rubber corners are available in two styles, spring steel or customizable with adhesive, each with rubber contours to fit the trigger guard.
1 1/4"  x  1/2"
---
OFFEYE(TM) - Optical Filters
Shoot with both eyes open. These optical filters help you maintain a dominant strong-side shooting eye without having to close your weak-side eye when shooting. Works with right-handed or left-handed shooters.
Filters are removable and reusable.
Fits all types of eye protection.  
This item "Always Ships Free"
---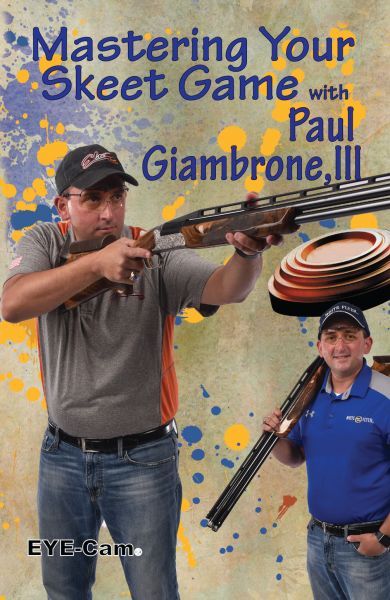 Mastering Your Skeet Game with Paul Giambrone III
Paul Giambrone the youngest member to be inducted in the NSSA Hall of Fame now offers an impressive 2hours and 20 minutes long DVD
Great for both shooters and coaches to gain knowledge of the game of skeet, how to fix common mistakes and use the mental game.
Giving you the utmost advantage over your competitors.
---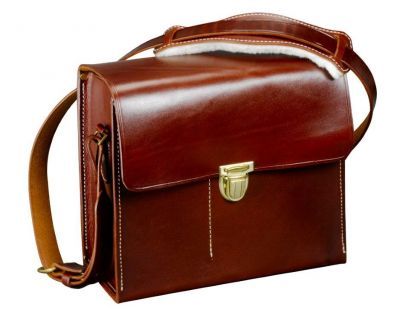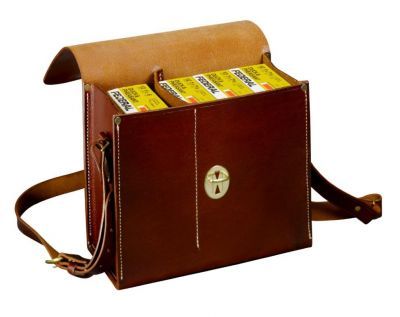 Deluxe Trap & Skeet Shooting Bag
This premium leather carrier features two compartments for ammo and accessories.
Large compartment holds up to six boxes of shotgun shells. Smaller compartment is for accessories or additional boxes of shells.
Features solid brass hardware and fleece lined shoulder pad for comfortable carrying.
12"w x 11"h x 5.5"d.
---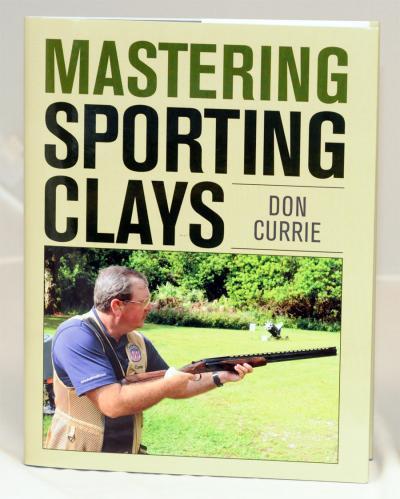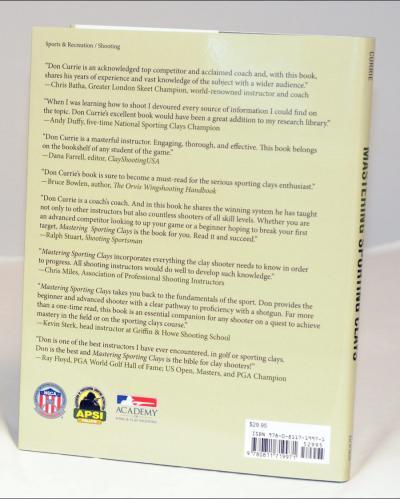 Mastering Sporting Clays
With so many instructors of sporting clays making claim to teaching the newest and/or best method for achieving higher, more consistent scores, it is often difficult to determine what is best for you. Clarity is what Don Currie, the NSCA's Chief Instructor, provides in his new book, Mastering Sporting Clays. Don's clear, concise and easy-to-absorb instructions are supported by his detailed descriptions of the fundamentals as well as the advanced techniques of sporting clays.
All the critical elements from eye dominance to proper gun fit to learning how to self-analyze your misses are discussed in detail. Whether you are a Master Class competitor, a casual shooter, avid upland bird hunter or novice sporting clays enthusiast, Mastering Sporting Clays will start you on the right path to fulfilling your potential in the sport.
Hard cover. 221 pages.
---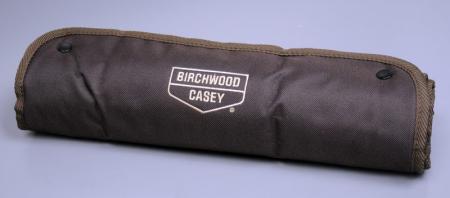 Waxed Canvas Cleaning Mat
This roll-up, portable cleaning mat is designed to keep your work area tidy and your gun protected while you clean your shotgun, rifle or handgun. A durable waxed-cotton interior, internal padding for protection and abrasion-resistant backer help keep your messes contained. Roll-snap closures for convenient portability.
Size: 16"H x 53"W
---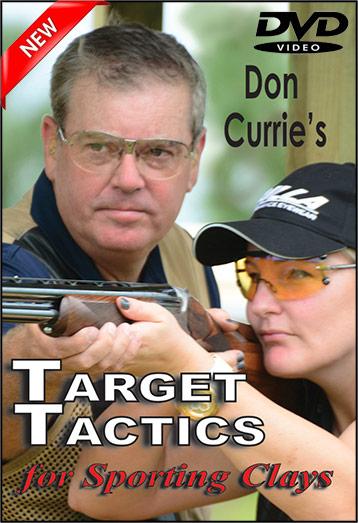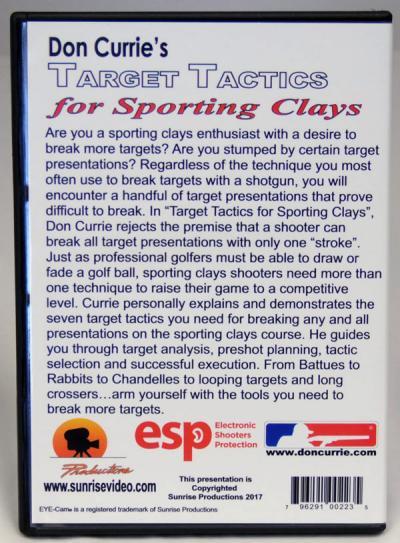 Don Currie's Target Tactics for Sporting Clays
Does your technique result in hits on most of the targets you face but certain presentations keep eluding you? Let Don Currie, Chief Instructor for the NSCA, show you how to achieve that next level in your sporting clays game. It is very difficult to reach your potential using just one target lead technique. Just like the pros, you must train and incorporate other techniques. Don teaches you the seven target tactics you need to hit those problem targets. These tactics are demonstrated on Long Crossers, Quartering Shots, Rabbits, Battues, Chandelles, Tower Shots, True Pairs, Report Pairs and many more presentations.
See shots from Don's point of view behind the gun with Sunrise Production's Eye-Cam®. This exciting new DVD will provide you with all the tools you need to win in sporting clays.
90 Minutes
---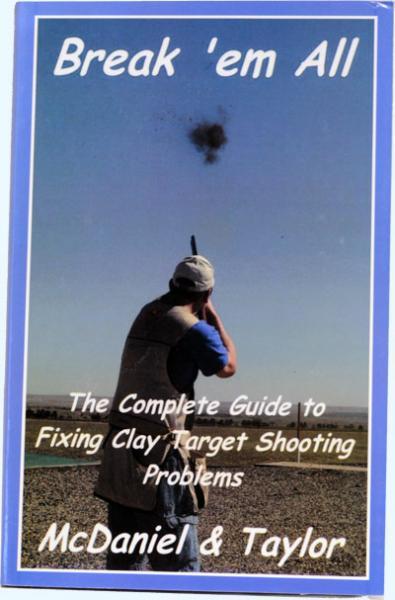 Break 'em All
Break 'em All
The Complete Guide to Fixing Clay Target Shooting Problems
B.J. McDaniel & Mark H. Taylor are both long-time coaches for USA Shooting teams.  Instead of taking a how-to approach to breaking targets, this book focuses on correcting and eliminating common problems which prevent shooters from hitting every clay target they shoot at.  The fundamentals of shotgun shooting are broken down into five basic components: position, mount, vision, movement and psychology. 
For each error, the questions are asked and answered:  How do I know if I am doing it?  What can I do to prevent this from happening again?  Focusing on how to self-diagnose common shooting problems and solutions you can easily put to use. 
Soft cover, 216 pages
Special Buy at $25.00
---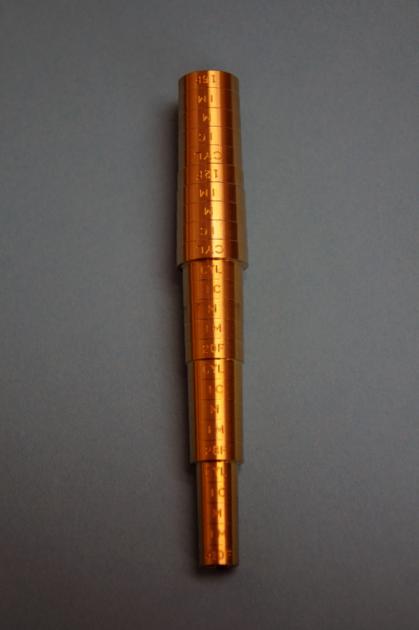 Brass Choke Gauge
Superb one-piece gauge that accurately measures the choke of 12,16,20,28 gauge and .410 bore guns.  Precision brass construction with bore choking clearly indicated for each gauge. 
Easy to use and read. 
5" long, weight 3.6 ounces.
---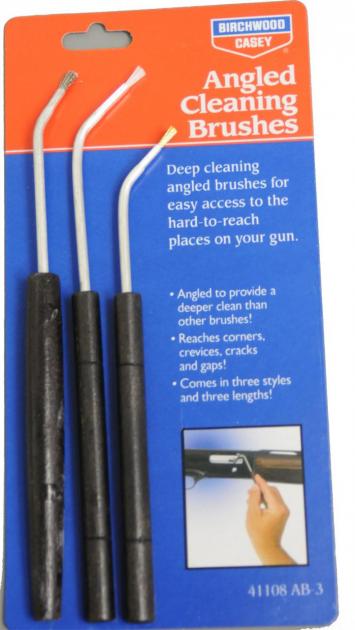 Angled Cleaning Brushes
Getting into those hard-to-reach corners and tight areas when cleaning your gun is no longer a problem. These Angled Cleaning Brushes make cleaning the crud out of corners and notches a cinch. They reach into places straight-handled brushes can't.
Three styles of bristles: stainless for use on hard metals and bronze and nylon for more sensitive surfaces.
---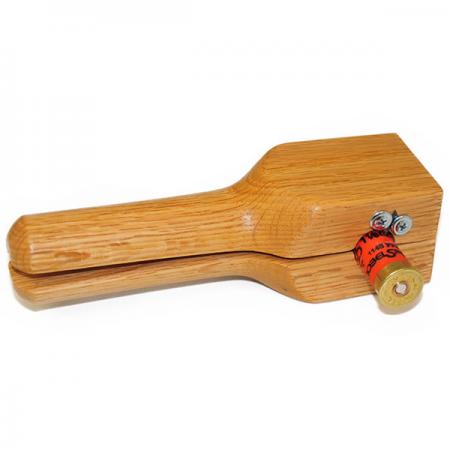 Shotshell Dismantler - NEW!!
Salvage the powder,wad and shot from your shell in just seconds with this sturdy, handmade, maple, easy-to-use Shotshell Dismantler. 12 gauge only. Comes with blade and instructions. Pays for itself in no time!
Replacement Blades available.
---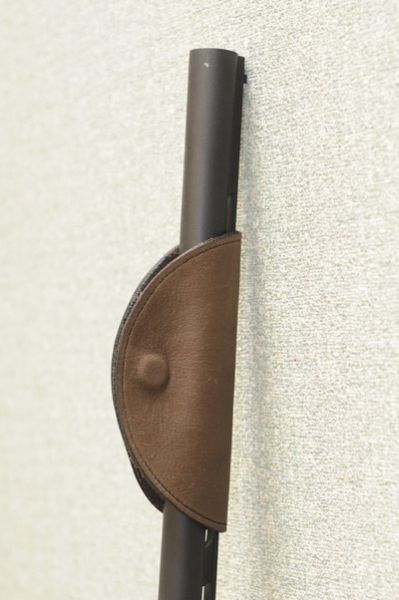 Barrel Taco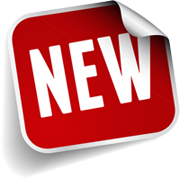 Designed to protect your gun's barrel, the NEW Barrel Taco is made of high-quality leather and proudly made in the USA. Two magnets make it simple and quick to install and remove. The soft, nonabrasive leather Barrel Taco can be easily folded and carried with you from one station to the next. Makes a great gift for friends, too!
---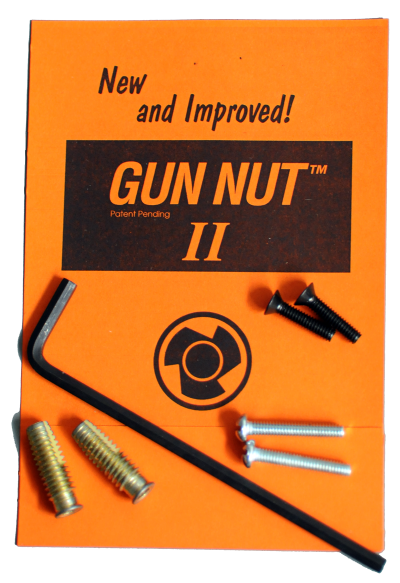 Gun Nut II System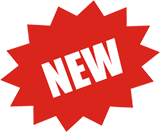 The new and improved Gun Nut II System is the quick and easy way to get a recoil pad back on that gun of yours with the worn-out pad screw holes.
The Gun Nut II System makes it a snap to change out a pad for any reason, add a spacer or do repairs.
Comes complete with instructions.
---