Due to the extreme raise in shipping charges we are currently not shipping to Australia and all shipments to Hawaii, Alaska, Puerto Rico and foreign countries MAY be subject to additional shipping fees at the time of the actual shipment.
You must be 18 years of age or older to purchase a subscription,
purchase products or view our magazine online.
Oversized shipments may be subject to additional shipping fees.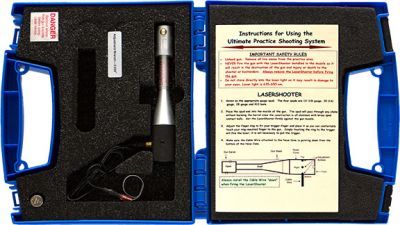 Red Laser Shooter
The Red LaserShooter works great in conjunction with the Shotgun Combo Gauge. When fitting your gun, use the Red LaserShooter to know exactly where your shot will be centered.  Using the LaserShooter is easy.  Put the shaft into your gun's muzzle and touch the finger ring to the gun's trigger.  Center your shot with a swing and mount or simply aim at the supplied target.   Activate the laser, see if the gun is shooting where the shooter is looking and make adjustments accordingly.  When fitted correctly, the swing and mount will naturally point the gun at the target.
The All-Gauge Red LaserShooter (RLS-4), along with the Shotgun Combo Gauge, are considered basic equipment for the gunsmith, stockmaker,  gunfitter or multi-shotgun shooting enthusiast.

Important Note:
For Benelli, Blaser and Franchi shotguns you must purchase the TRIGGER SWITCH add-on.
Those triggers are coated and will not transmit the standard touch trigger signal without this add-on.
Plus $30 shipping
---
Available gauges: 12, 20/16, 28, 410
Please indicate your gauge preferences in the comments box at Checkout.
Additional Gauges are also available separately at $33/ea.