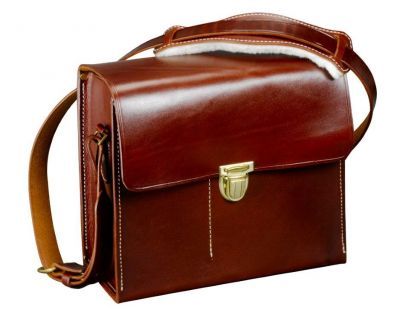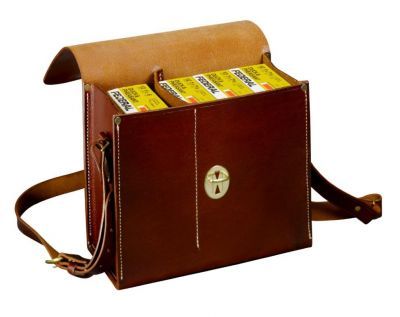 Deluxe Trap & Skeet Shooting Bag
This premium leather carrier features two compartments for ammo and accessories.
Large compartment holds up to six boxes of shotgun shells. Smaller compartment is for accessories or additional boxes of shells.
Features solid brass hardware and fleece lined shoulder pad for comfortable carrying.
12"w x 11"h x 5.5"d.
---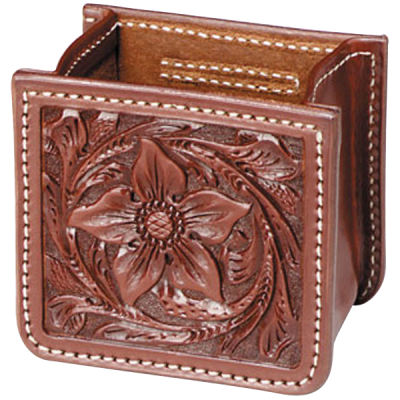 Single Box Shotshell Carrier
Heavy-leather front and snap-on belt loop carries a full box of shells. High-grade soft leather folds flat for easy storage.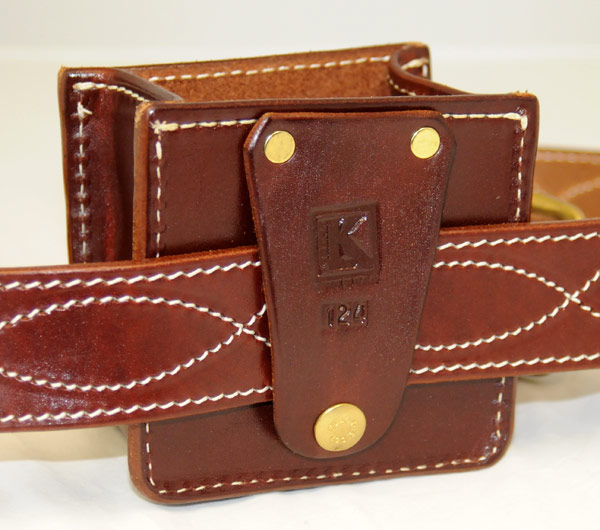 Walnut only. Specify finish
---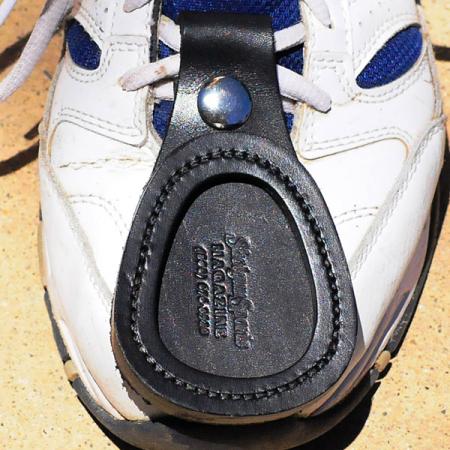 Leather Toe Saver
Top-quality leather muzzle rest. Attaches to all shoes and boots with laces. Specify Brown or Black leather
---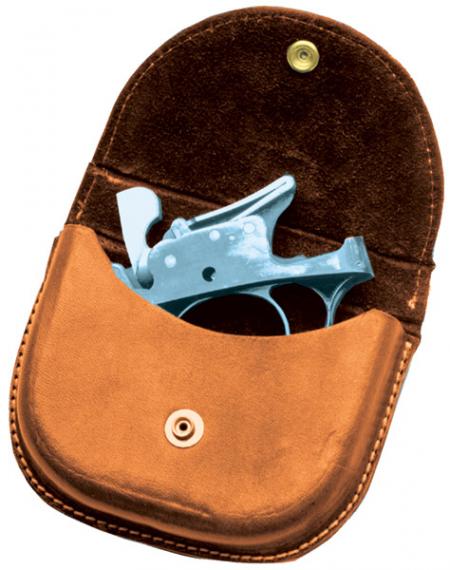 Perazzi/Beretta Trigger Case
Fits your Perazzi trigger (single or over & under) and the Beretta DT10 trigger. Heavy-duty stitching and snap-close flap give protection from dirt and dings. (Not basket weave) Brown only
---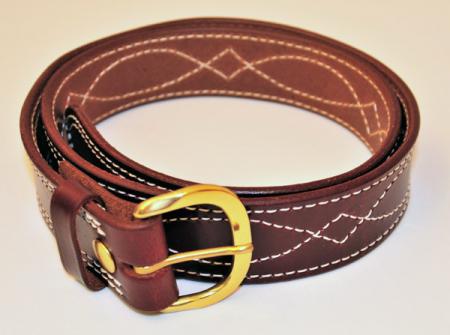 Walnut Lazy Stitch Belt
Made of heavy saddle skirting, this 1¾″ wide lazy stitch belt features a solid brass end bar buckle. Available in Walnut and offered in sizes 36, 38, 40, 42, 44, 46 or 48.
Specify size
---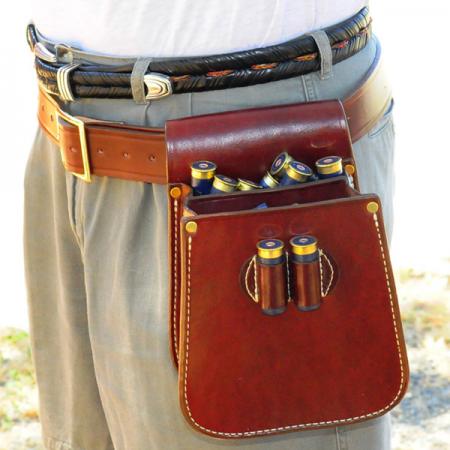 Deluxe Divided Shotshell Bag with Belt
Hand-selected top grain cowhide divided shotshell carrier comes with a 1 ¾ " wide Brass-Buckled belt.  One size fits 32" to 46".  The outer bag sports two 12 gauge loops for decorative/easy access.  Designed to hold 25 shotshells, plus 2, while keeping them separate from empties (spent). 
Color: Walnut
---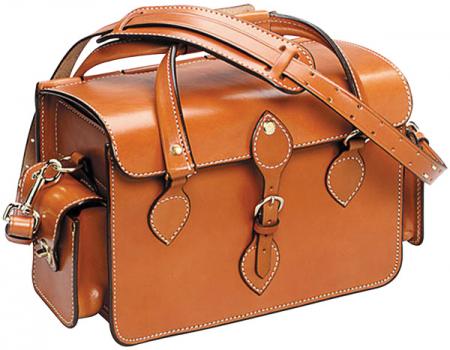 All Leather Shooting Bag
This handsome all-leather European styled bag measures 12″ x 6″ x 9″. Features outside pockets, buckled tongue with quick snap-on lid, rolled carrying handles and padded, adjustable shoulder strap. Made of the finest top grain American cowhide. Each traditionally-styled, handmade bag is finished with rich oil tan stain, hand-rubbed and buffed with a sealer for luster and durability.
---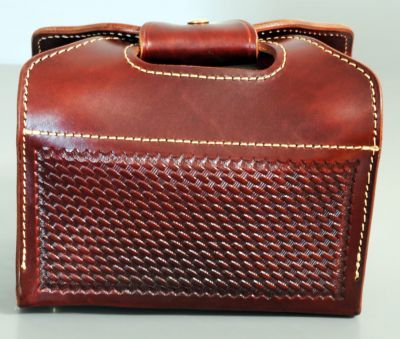 4-Box Shotshell Carrier
Heavy-duty handmade saddle-leather carrier holds four boxes or 100 shells. Inner flap snaps together for weather protection and top flap snaps together to become a carrying handle. Great gift item!
Walnut only. Specify basket weave or hand-carved floral finish
---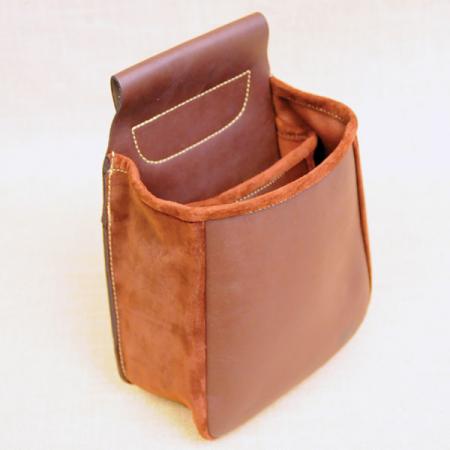 Divided Shell Carrier
Quality, supple leather Divided Shell Carrier has a soft suede gusset so it can expand to hold your shells. Two inner pockets hold 50 live 12-gauge loads and 50 empty shells. Belt loop fits up to 2″ belt. Luxuriant, rich-looking leather in deep chocolate brown.
---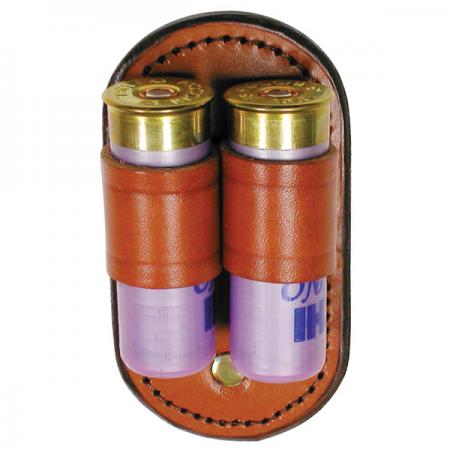 Extra Shell Carrier
Clip-on leather holster holds 2 extra 12-gauge shells. Brown only
---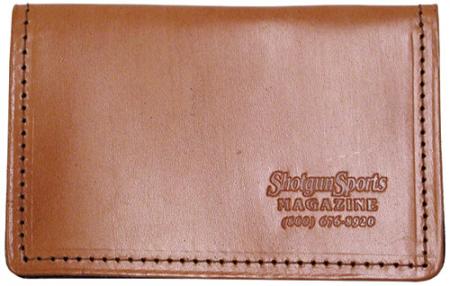 Average Card Holder
The perfect place to keep your plastic registration cards and scorecards. (Not basket weave) Brown only
---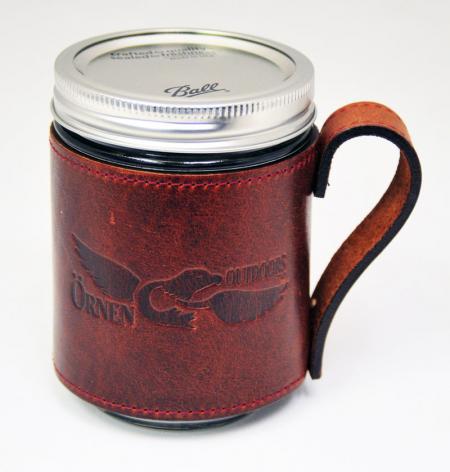 Leather Mug Hugger
This unique 16 oz. Mason jar comes with a high-quality removable leather wrap and handle to hold your favorite beverage. It not only looks great, it's good for the environment.
You keep your Mason jar instead of disposing of another landfilling plastic bottle. Makes great gifts for all occasions as well as camping and sporting events.
1 Mug   $18.95  CLOSEOUT $15.00
6 or more pay only $9.99/ea.
(change the quantity in the cart)
4 Mugs $65.00  CLOSEOUT $49.99
Only While Supply Last!
---