Due to the extreme rise in shipping costs all shipments to Hawaii, Alaska, Puerto Rico and all other countries outside of the United States MAY BE SUBJECT to additional shipping fees at time of actual shipment. Oversized shipments may be subject to additional shipping fees.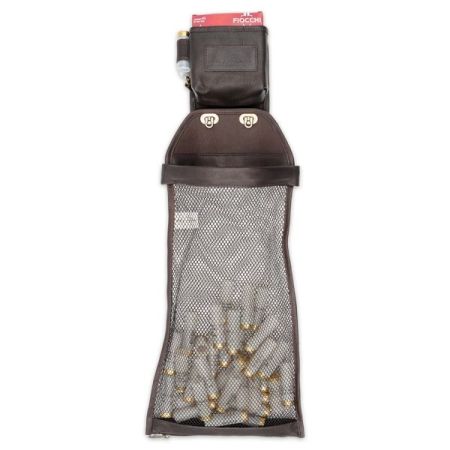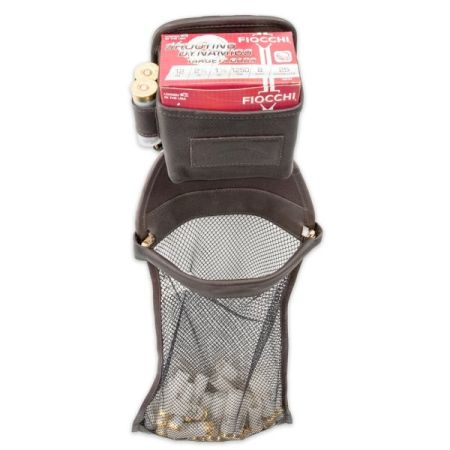 Leather Shooters Combo Pouch
Holds standard box of shells in top & includes two 12 GA spare shell holders on the side with a Brass D-ring.  High quality belt clip with Brass quick connects for easy hull bag removal. Frame snap mouth opening holds up to 100 empties with zippered bottom for easy unloading. 
Color: JAVA only
---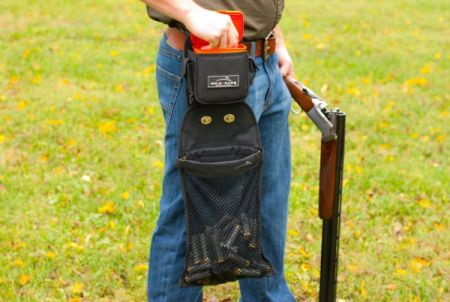 Shooter's Combo Pouch
Holds 1 box of live 12 GA shells in top , includes spare pockets for ear plugs and 2 shells.  Detachable mesh hull bag with spring loaded top holds up to 100 empties and zippered bottom makes for easy emptying.  Clip style with additional belt loops in back.
Black only. Lifetime guarantee.
---
Shell Shuttle

Neat, convenient shell carrier holds four boxes of shells or up to 100 empties. Roomy zippered pockets on each side hold all the chokes, ear plugs, etc. you'll need.
Made of tough nylon denier in bright colors that make them easy to find among your gear.
Specify color: Fluorescent Orange, Midnight Blue, or Jet Black
SPECIAL
6 OR MORE $16.95/EA -- LIMITED TIME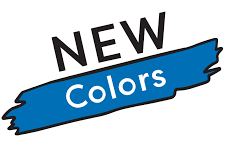 ---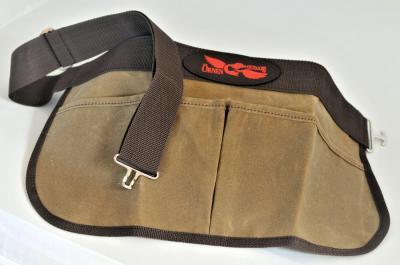 Shell Apron with Belt
Outdoor Classics!
Don't like wearing a vest when you shoot, the Shell Apron is for you! With two bellowed pockets and 2″ adjustable belt, it keeps shells conveniently close and leaves hands free.
Made of sturdy, water repellent, densely-woven waxed cotton.
---
Lightweight 4-Box Shell Carrier
Outdoor Classics!
Lightweight Carrier can hold standard and magnum loads with ease. Hard bottom provides extra support and protection.
Made of sturdy, water repellent, densely-woven waxed cotton.
Light enough to carry all day! 8¾″ x 5¼″ x 5″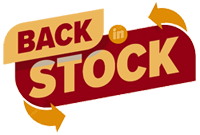 ---
Handicap Pouch
Popular combo pouch holds one box of live 12-gauge shells in the top and 2 extras in shell loops on either side of box. Also, 100 empties in the spring-locked bottom compartment. Easy to fill and empty.
Made of rip-stop nylon and heavy-duty mesh. Heavy-duty nylon web belt loop keeps it secured to your belt.
Black only.
CLOSEOUT
---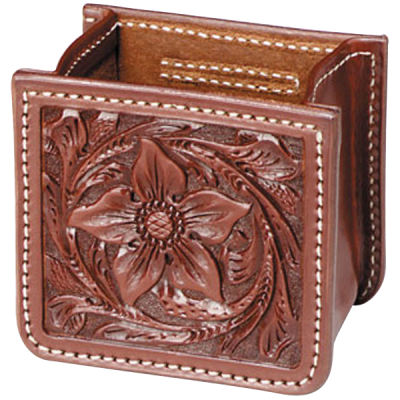 Single Box Shotshell Carrier
Heavy-leather front and snap-on belt loop carries a full box of shells. High-grade soft leather folds flat for easy storage.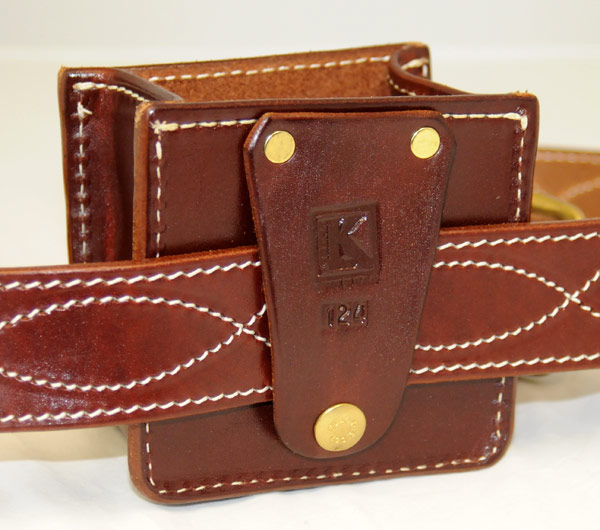 Walnut only. Specify finish
---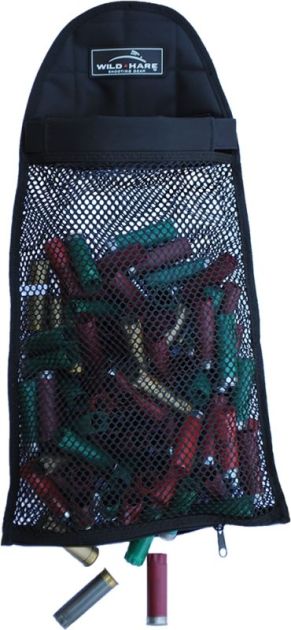 Hull Hamper

Strong, yet lightweight nylon mesh bag holds 100-plus empty hulls.
Unique flat spring locks open the bag's wide mouth or keeps it closed so hulls won't pop open.
High quality metal belt clip and zippered bottom for easy emptying.
Overall size:   21" x 11"
Pouch Size:   15" x 11"
Color:             Black-Quilted
---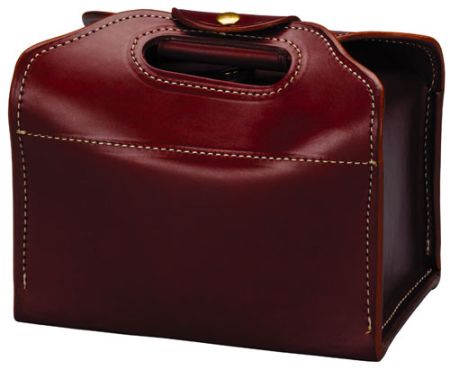 4-Box Shotshell Carrier
Heavy-duty handmade saddle-leather carrier holds four boxes or 100 shells. Inner flap snaps together for weather protection and top flap snaps together to become a carrying handle. Great gift item!
Walnut only. Specify basket weave or hand-carved floral finish
---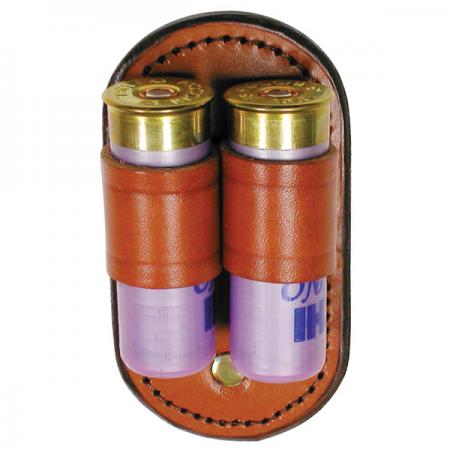 Extra Shell Carrier
Clip-on leather holster holds 2 extra 12-gauge shells. Brown only
NEW LOWER PRICE
---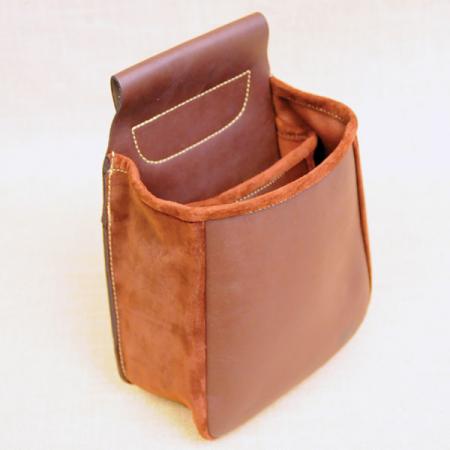 Divided Shell Carrier
Quality, supple leather Divided Shell Carrier has a soft suede gusset so it can expand to hold your shells. Two inner pockets hold 50 live 12-gauge loads and 50 empty shells. Belt loop fits up to 2″ belt. Luxuriant, rich-looking leather in deep chocolate brown.
---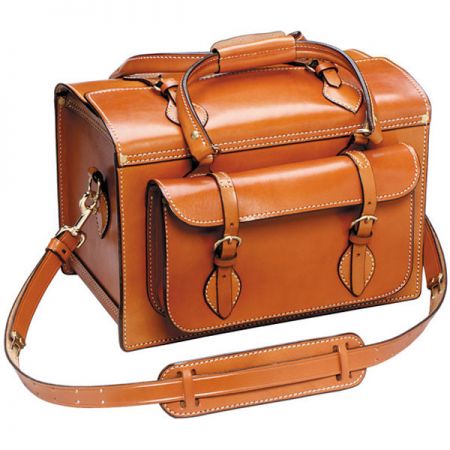 Deluxe Shooting Bag
Our most popular all-leather bag. 
15"w x 12" h x 9" d. 
Outside pockets for gloves , glasses, and other gear. 
Four flap top keeps contents free of dust and dirt. 
Rolled carrying handles and padded adjustable shoulder strap.
Bag of a lifetime!
---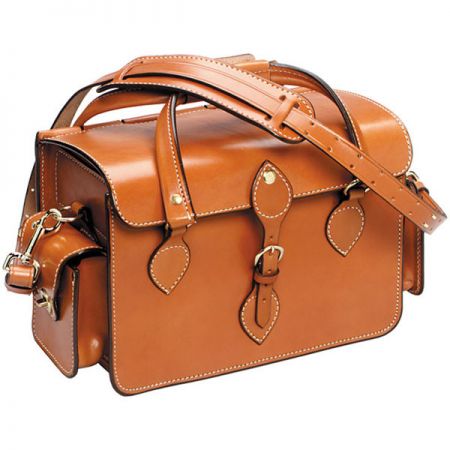 All Leather Shooting Bag
12'w  x 9"h x 6" d with outside pockets. 
Buckled tongue with quick Snap-On lid. 
All leather bag features rolled carrying handles and padded adjustable shoulder strap. 
Tan only  What a beauty !
---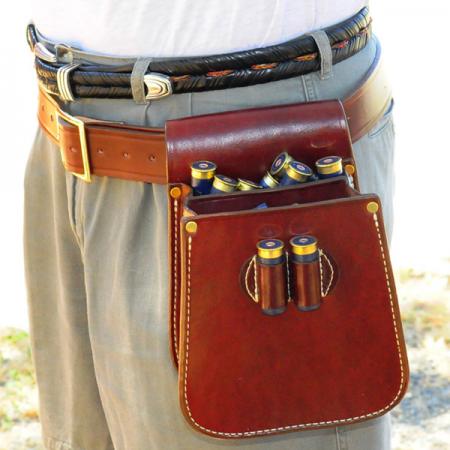 Deluxe Divided Shotshell Bag with Belt
Hand-selected top grain cowhide divided shotshell carrier comes with a 1 ¾ " wide Brass-Buckled belt.  One size fits 32" to 46".  The outer bag sports two 12 gauge loops for decorative/easy access.  Designed to hold 25 shotshells, plus 2, while keeping them separate from empties (spent). 
Color: Walnut
---