Due to the extreme rise in shipping costs all shipments to Hawaii, Alaska, Puerto Rico and all other countries outside of the United States MAY BE SUBJECT to additional shipping fees at time of actual shipment. Oversized shipments may be subject to additional shipping fees.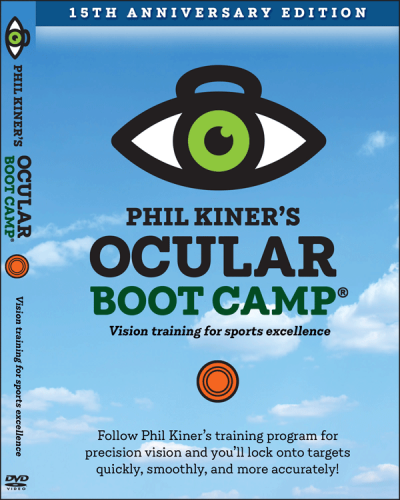 Phil Kiner's OCULAR BOOT CAMP

Now in its 15th year, OCULAR BOOT CAMP is Phil Kiner's most up-to-date program for developing precision vision. 
This DVD includes unique exercises for training your eyes to work together—culminating in greater target acquisition.  As the winner of 38 Grand American trophies and the first shooter in ATA history to break 400x400 on Championship All-Around targets, and the only one in the world to do it twice----Phil has built his target-breaking career around this solid eye-training program.  Phil's eye exercises will help you improve your results on the shooting line. 
DVD - 15 minutes
---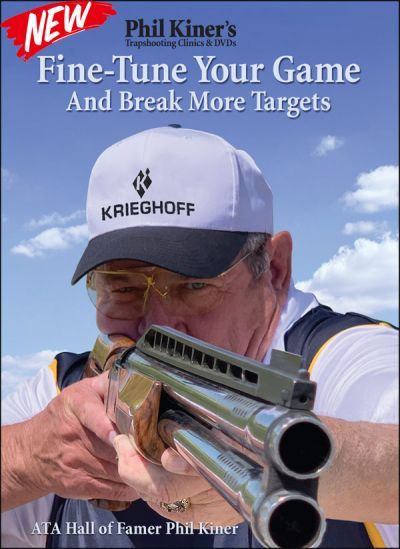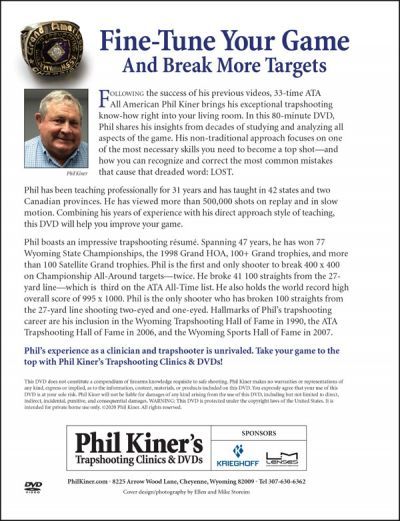 Fine-Tune Your Game and Break More Targets - with Phil Kiner
Following the success of his previous DVD's , 33- time ATA All American Phil Kiner brings his exceptional trapshooting know-how right into your living room.  Phil shares his insights from decades of studying and analyzing all aspects of the game.  His non-traditional approach focuses on one of the most necessary skills you need to become a top shot—and how you can recognize and correct the most common mistakes that cause that dreaded word : LOST
Phil has viewed more than 500,000 shots on replay and in slow motion.  Combining his years of experience and his direct approach style of teaching this DVD will help you improve your game and be a point of reference for years to come. 
80 minutes
---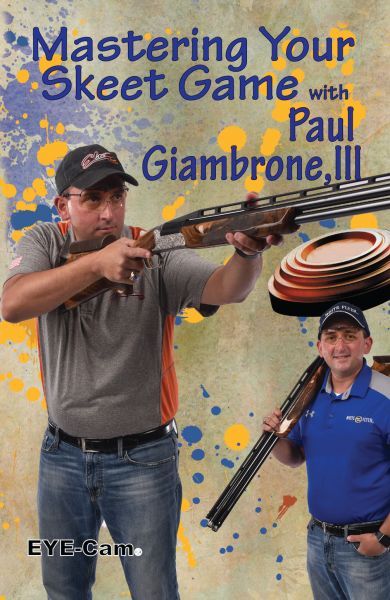 Mastering Your Skeet Game with Paul Giambrone III
Paul Giambrone the youngest member to be inducted in the NSSA Hall of Fame now offers an impressive 2hours and 20 minutes long DVD
Great for both shooters and coaches to gain knowledge of the game of skeet, how to fix common mistakes and use the mental game.
Giving you the utmost advantage over your competitors.
---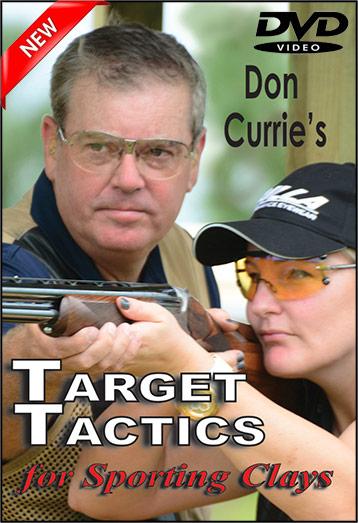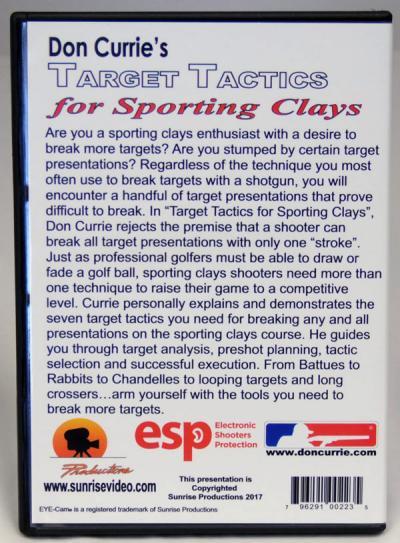 Don Currie's Target Tactics for Sporting Clays
Does your technique result in hits on most of the targets you face but certain presentations keep eluding you? Let Don Currie, Chief Instructor for the NSCA, show you how to achieve that next level in your sporting clays game. It is very difficult to reach your potential using just one target lead technique. Just like the pros, you must train and incorporate other techniques. Don teaches you the seven target tactics you need to hit those problem targets. These tactics are demonstrated on Long Crossers, Quartering Shots, Rabbits, Battues, Chandelles, Tower Shots, True Pairs, Report Pairs and many more presentations.
See shots from Don's point of view behind the gun with Sunrise Production's Eye-Cam®. This exciting new DVD will provide you with all the tools you need to win in sporting clays.
90 Minutes
---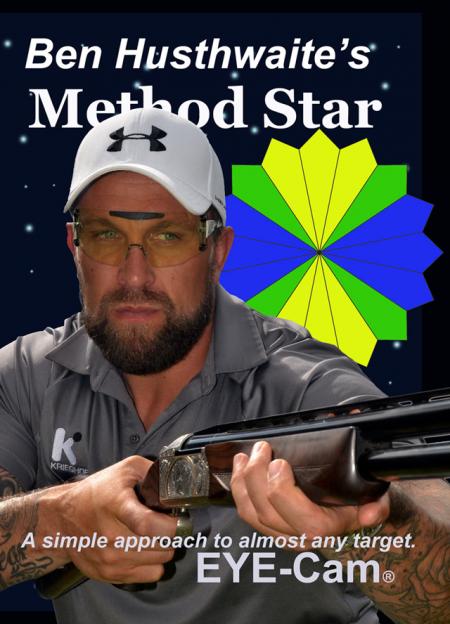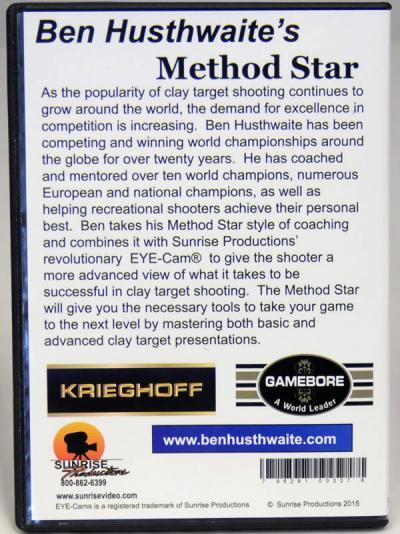 Ben Husthwaite's Method Star
For more than twenty years Ben Husthwaite has been winning World Championships in sporting clays around the world. Ben has coached National, European and World Champions and he can help you raise the level of your sporting clays proficiency, too. In this exciting DVD Ben's unique Method Star approach is combined with Sunrise Productions' exclusive EYE-CamR giving you the view necessary for you to be more successful in sporting clays. Let Ben and his Method Star approach help you master the targets you have been missing. 90 minutes.
---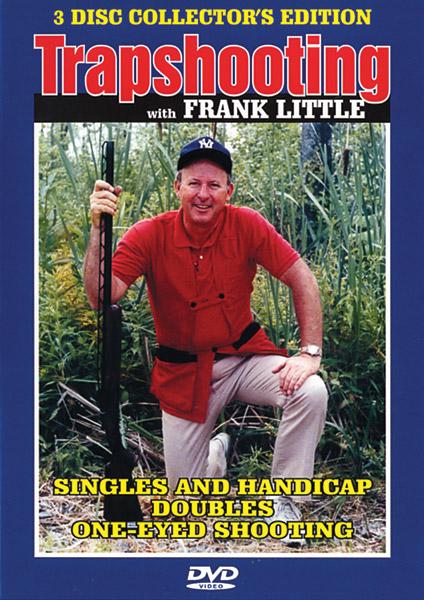 Trapshooting With Frank Little
3-DISC COLLECTOR'S EDITION
These DVDs are packed with know-how from one of the greatest trapshooters of all time. Frank Little was one of the most-consistent winning champions in the history of the ATA. Frank made 30 All-American teams as well as a U.S. Olympic team, was inducted into the ATA Hall of Fame, won 39 state championships, 53 Grand American trophies and maintained a 99% average for 21 years! Here is your chance to learn from the legendary Frank Little. Sit in on conversations with Frank as he discusses the basic and fine points of all aspects of the trap game.

Watch this 3-disc set and start breaking better scores in trap with the coaching of the great Frank Little!

This DVD set will teach you what Frank suggests in Singles, Handicap and Doubles. Frank provides the viewer the advantage of his many years of championship performance and tells you just how to become a trap champion, too. This Collector's Edition Set gives you Frank's best suggestions on: Hold Points for Eyes and Gun, Equipment, Choke for all the trap games and Foot Positions for all the posts. There is even a disc dedicated to the one-eyed trapshooter. There is so much information on this unique set you'll find yourself watching it over and over again to be sure you got it all. 3 hrs. 3-disc set.
DVD only - Not High Definition
---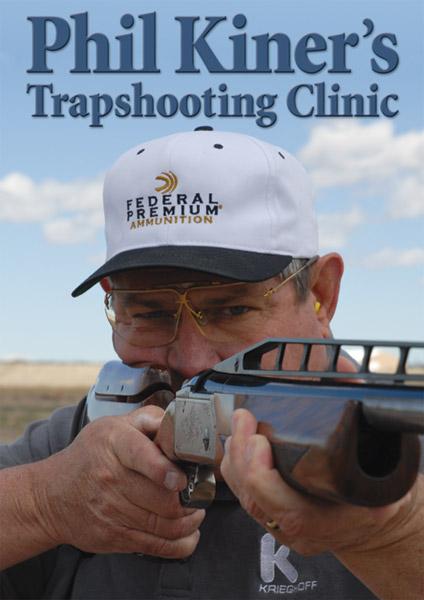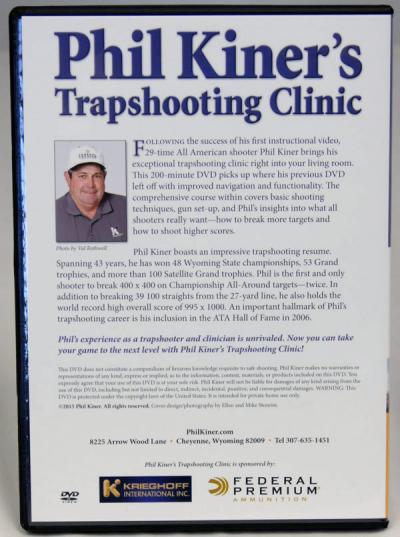 Phil Kiner's Trapshooting Clinic
Following the success of his first video, ATA Hall-of-Famer Phil Kiner brings his new and improved Trapshooting Clinic right into your living room. This comprehensive DVD covers all the elements of singles, doubles and handicap – from basic gun set-up and shooting technique to Phil's insights into what all shooters want – how to break more targets and shoot higher scores.
DVD - 203 minutes
NEW LOWER PRICE
---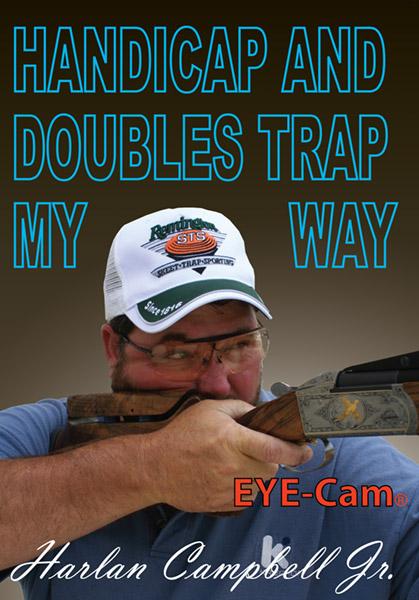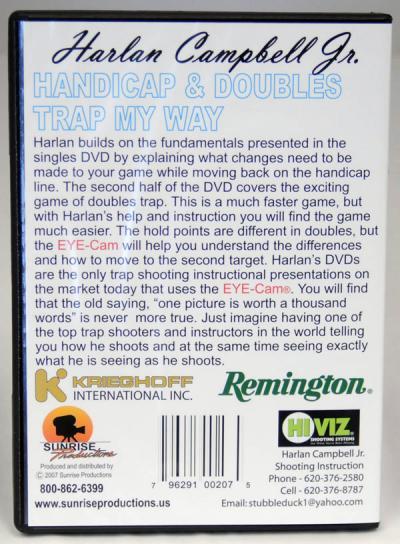 Handicap & Doubles Trap My Way
Highly successful Coach Harlan Campbell, Jr. is also a 22-year ATA All-American Trap Team member (4 as Captain) and winner of numerous Grand American titles (including two HAA and one HOA). In this new DVD, he explains how to take Doubles and Handicap targets with ease. Harlan's first video (TTSMW1) showed the fundamentals and gun setup to assure success on Singles; this video expands on that base to help you conquer Doubles and Handicap. EYE-CAM® lets you see what Harlan sees so you can be on your way to better shooting quickly! Don't fear Doubles — dominate them! 90 min. DVD only
---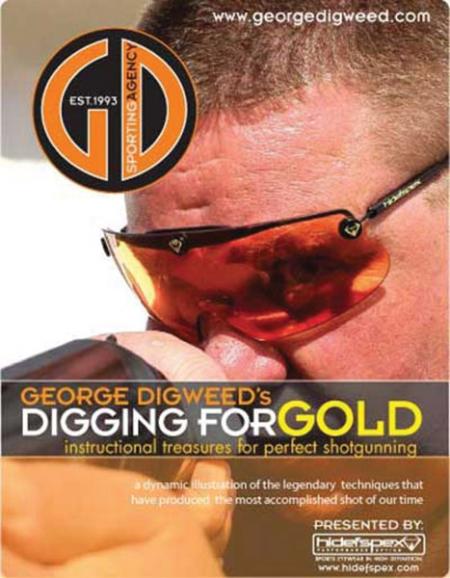 Digging For Gold by George Digweed
This 2-disc set from 19-time World Champion George Digweed demonstrates his winning approach to 10 different stands at the beautiful Orvis Sandanona Shooting Grounds. George takes you through each stand — teal, rabbit, chandelle, driven, on-edge, long-distance, pairs, quartering, battue and below-the-feet — using HiDefSpex® Diamond Vision lenses to show exactly what he sees and also uses the HiDefSpex® Shot Simulator to graphically explain his technique. Includes a one-on-one interview with George explaining his approach. Learn from the World All-Around Shotgun Champion!
2-DVD Set - 90 minutes
---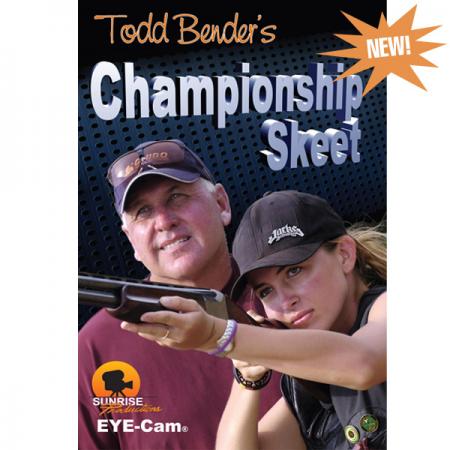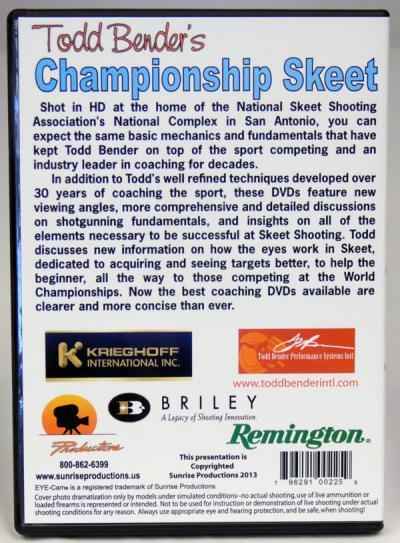 Todd Bender's Championship Skeet - NEW!
Perennial All-American and NSSA Hall of Fame inductee, Todd Bender has once again teamed with Sunrise Productions to bring you his latest skeet shooting instructional DVD, Todd Bender's Championship Skeet.With 30 years of coaching experience around the world, Todd fills this new DVD with more instruction, advice and tips for the home viewer looking to elevate his or her skeet game to the next level. 150 minutes
In addition to Todd's excellent explanations of the game's basic mechanics and fundamentals Todd Bender's Championship Skeet includes a greater amount of detailed and comprehensive discussions on all the elements to become successful in skeet shooting. You will find more and better information on how to use your eyes than ever before in this new DVD. Greater detail on why it's so important to be a "lower body shooter". New Field Over-View camera angles are used as well as the now famous, EYE-CAM® helping you understand in greater depth Todd's instructions. Take advantage of Todd's many years as an elite level competitive shooter and renowned skeet shooting coach right in your own home with Todd Bender's Championship Skeet.
---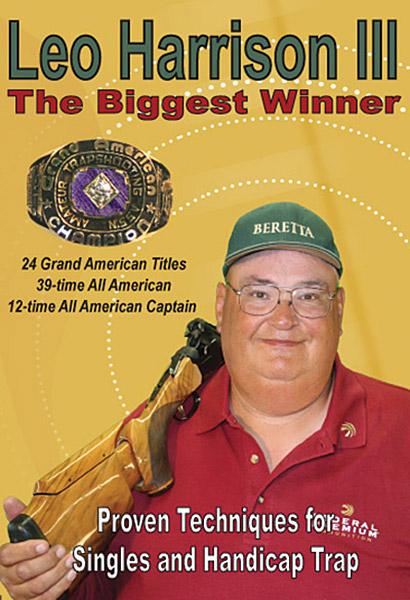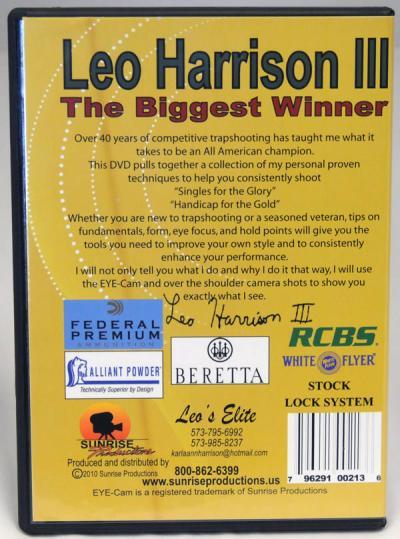 Proven Techniques For Singles & Handicap
With Leo Harrison III. This DVD provides the viewer with Leo's advice based on his many years of experience as one of the game's premier champions. Leo explains his techniques and tips on fundamentals, eye and gun hold points, focus, form and much more, helping you gain the tools you need to improve your style and enhance your performance.
Uses EYE-CAM®, 90 minutes.
---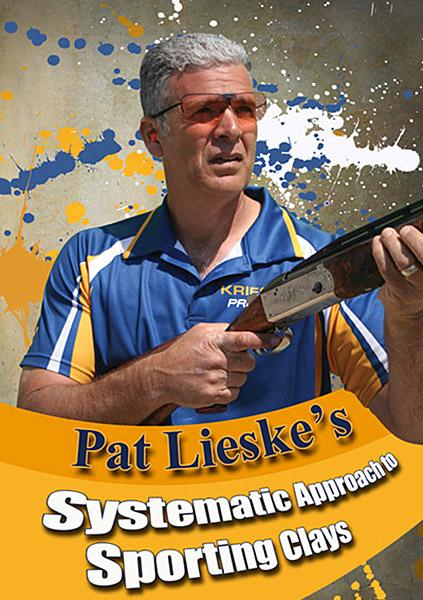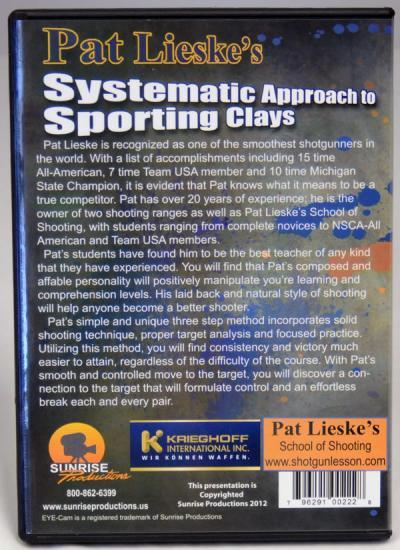 Pat Lieske's Systematic Approach To Sporting Clays
Pat Lieske is one of the smoothest shotgunners in the world, with a list of accomplishments including 15-time All-American, 7-time Team USA member and 10-time Michigan State Champion including 2014 NSCA Champ. As a competitor and owner of Pat Lieske's School of Shooting, as well as two shooting ranges, Pat knows what it means to be a shotgunner and a competitor. Pat's affable personality and his laidback, natural style of shooting make him a great teacher for newbies to Team USA members and All-Americans. His simple three-step method promotes solid shooting technique, proper target analysis and focused practice to help you find consistency and success, no matter how difficult the course. With Pat's Systematic Approach, you will discover a connection to the target that will lead to an effortless break each and every time. 90 minutes.
---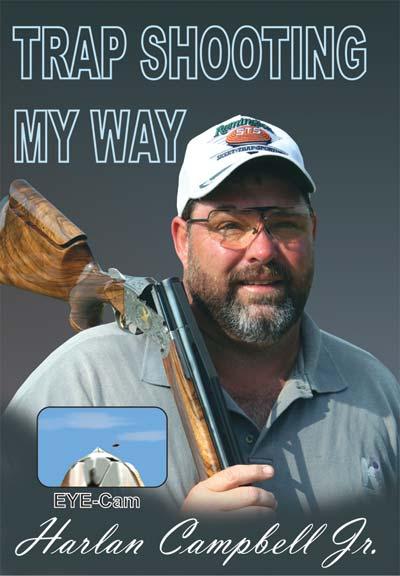 Trap Shooting My Way with Harlan Campbell, Jr.
The video we've all been waiting for! Harlan Campbell, Jr. says, "Shooting better is a choice, and that choice is yours." With this DVD, you can have coaching on your trap Singles from one of the most sought-after instructors in the country. Harlan has been on the ATA All-American Trap Team 22 years (four as Captain) and has numerous Satellite Grand and Grand American titles, including two HAA and one HOA. He spends 200 days a year teaching others to shoot trap well. He can show you a better way of shooting and a new way of thinking so you can take advantage of your skills and training. The EYE-CAM® makes every shot seem as if you are there. 90 minutes.
---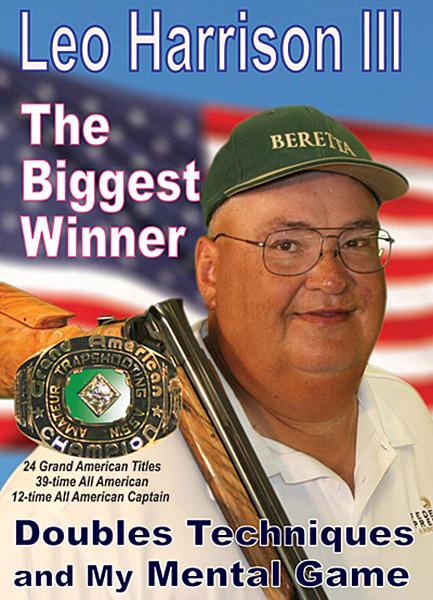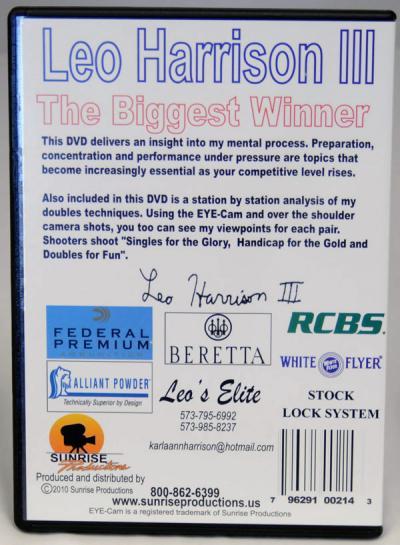 Doubles Techniques & My Mental Game
This DVD gives you a close look at the mental processes Leo ascribes to preparation, concentration and performance under pressure, and it includes station-by-station analysis of his Doubles techniques. Sunrise Production's exclusive EYE-CAM® shows you exactly what Leo sees in both real-time and slow-motion. Over-the-shoulder views are also used. With more than 40 years of competitive shooting experience, Leo Harrison is one of the most successful trapshooters in the history of the sport.
70 minutes
An ATA Hall-of-Fame inductee, Leo has won 24 Grand American titles and been Captain of the All-American Team 12 times. In 2010, he set a new ATA HOA record at the Grand American, breaking 992x1000 targets. Whether you are new to trapshooting or a seasoned veteran of the game, let Leo coach you to better performance and better scores!
---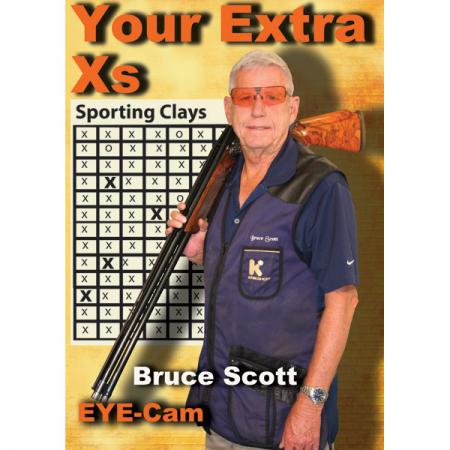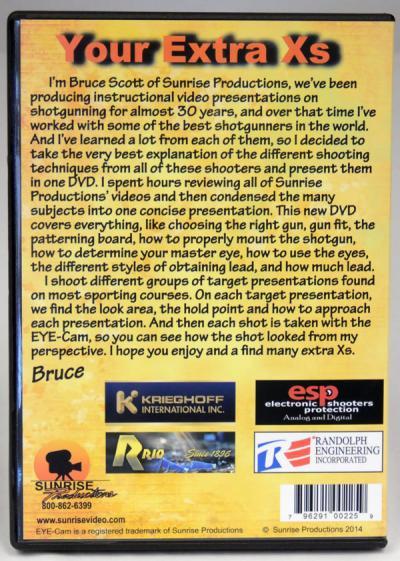 Your Extra Xs
Sunrise Productions, makers of the finest shotgunning instructional videos, has produced yet another winning DVD for the sporting clays enthusiast. Founder Bruce Scott has had the privilege of learning from and filming some of the greatest shotgunners on the planet while making their instructional DVDs. He has taken the best explanations of shotgunning technique and target presentation analysis from these greats and combined them into his latest video, Your Extra Xs. Bruce, in his own words and teaching style, provides the viewer with the most comprehensive and skill-enhancing DVD you could ever want. This new, unique and exciting DVD will help you elevate your sporting clays game. 120 minutes.
---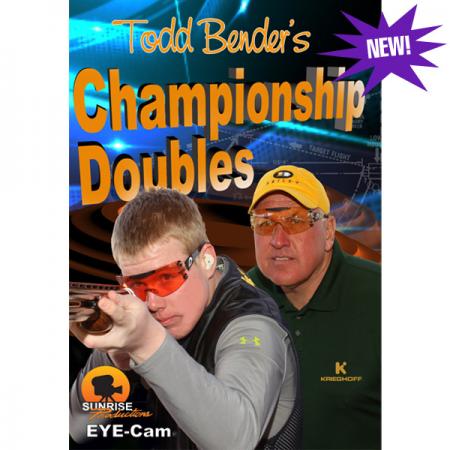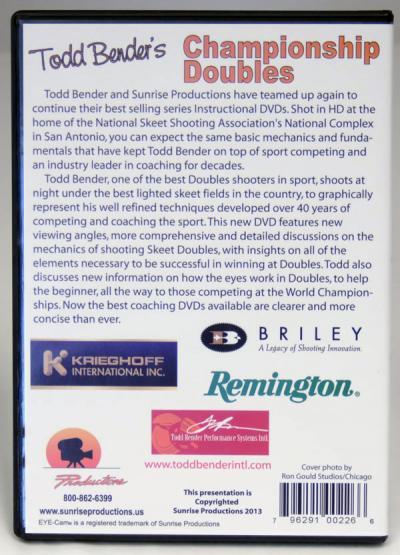 Todd Bender's Championship Doubles - NEW!
NSSA Hall of Famer Todd Bender gleans from his many years of coaching to teach you how to become the best Doubles shooter you can be.  This DVD includes new camera angles and more d detailed  and comprehensive explanations on the mechanics and finer points of shooting championship level doubles in skeet.  90 minutes.
Todd Bender and Sunrise Productions have once again teamed up to bring you the latest in their popular series of shooting instructional DVDs. NSSA Hall of Fame inductee, Todd Bender, one of the best Doubles shooters in skeet, gleans from his many years of coaching to teach you how to become the best Doubles shooter you can be in Todd Bender's Championship Doubles. Shot in HD and under the lights at the National Shooting Complex in San Antonio, TX, headquarters of the National Skeet Shooting Association and the National Sporting Clays Association. This exciting new DVD includes new camera angles and more detailed and comprehensive explanations on the mechanics and finer points of shooting championship level Doubles in skeet. How to use your eyes to their fullest potential, how to find the best hold point, break point, achieving transition and much more are explained in depth in Todd Bender's Championship Doubles. If you're serious about your skeet game, you have to watch this DVD! 90 minutes
---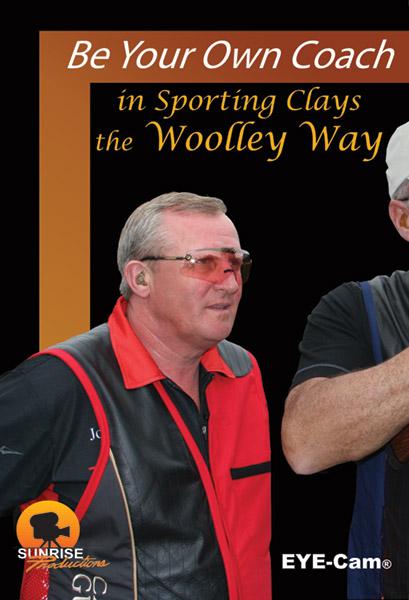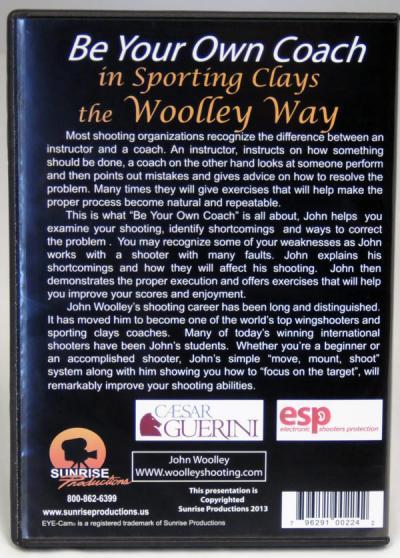 Be Your Own Coach In Sporting Clays
The Woolley Way with John Woolley
John Woolley is one of the most sought after sporting clays coaches.  Learn how to examine your shooting to identify shortcomings and ways to correct the problems.  Learn John's simple "move,mount,shoot" system.  90 minutes
John's knowledge and experience has helped many international shooters become winners, and John can help you become your own coach! In Be Your Own Coach, John demonstrates many of the common problems sporting clays shooters develop and how the exercises he offers and proper execution of the shots will help you improve your scores and your enjoyment of the game. Learn to make the process more natural and repeatable with John's simple "move, mount, shoot" system and his tips on how to focus on the target.
---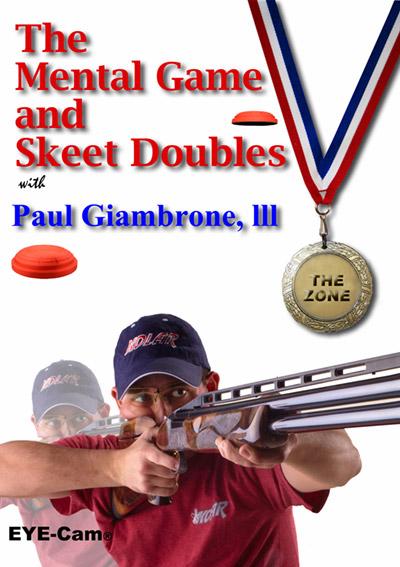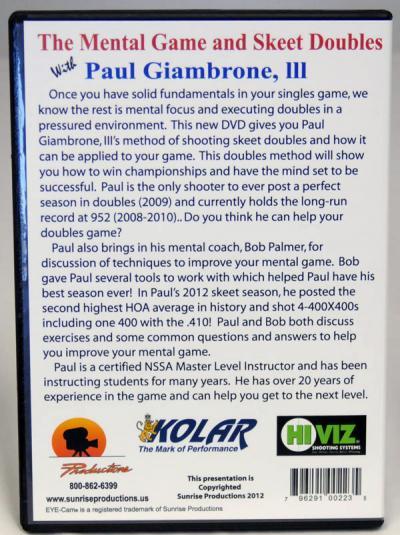 The Mental Game and Skeet Doubles with Paul Giambrone III
Paul Giambrone III has teamed up with Sunrise Productions to show you the secrets to his success in skeet and particularly in the game of Doubles. Paul is a certified NSSA Master Level Instructor with over 20 years experience and the only skeet shooter to have ever posted a perfect season in Doubles. Paul also holds the Doubles long-run record with 952 straight. Consistency and a strong mental game will help you move to the next level, and this DVD shows you how to accomplish that. 110 minutes.
---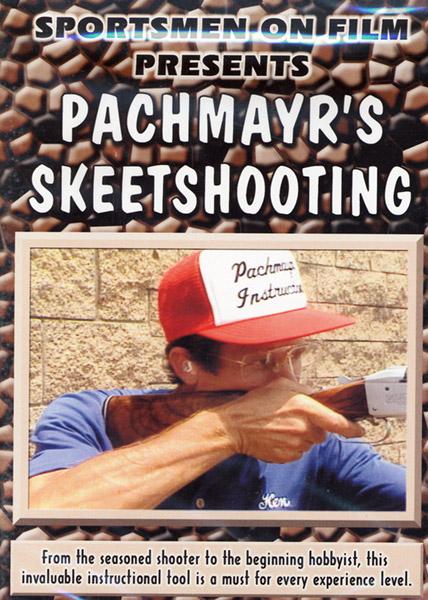 Pachmayr's Skeet Shooting with Ken Robertson
NEW LOWER PRICE!
Improve your technique and strategy with station-by-station foot positions, aim points, lead, eye hold, where to break targets. Good computer graphics. 51 minutes.
---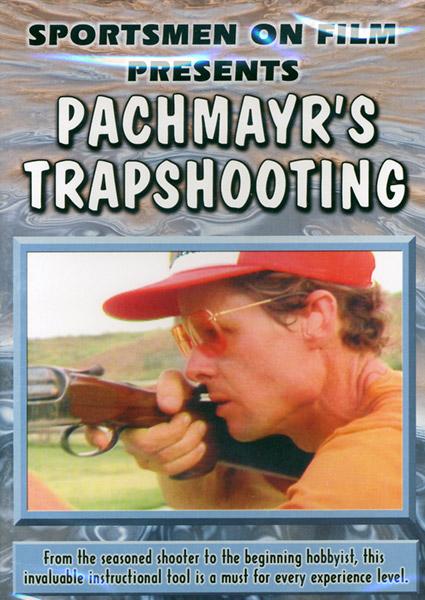 Pachmayr's Trapshooting With Ken Robertson
NEW LOWER PRICE!
Learn the fundamentals of stance, gun hold, eye hold, timing and lead — improve your trapshooting skills at your own pace. Ken's station-by-station instruction will have you improving your technique in no time! 40 minutes.
---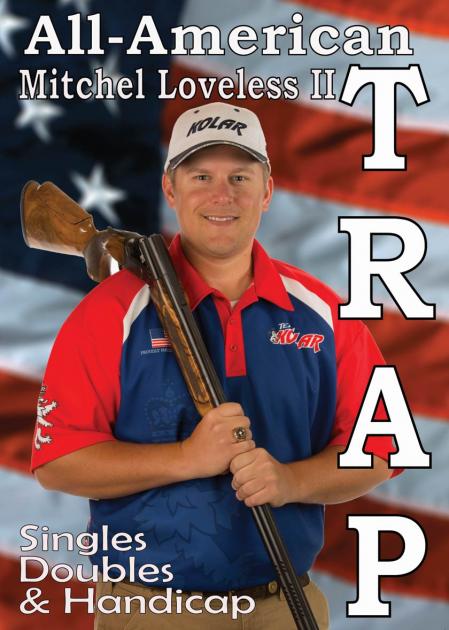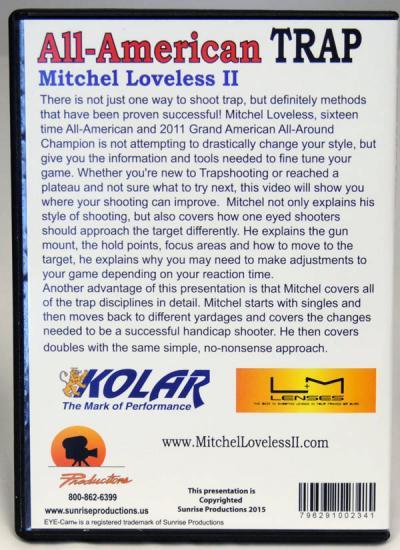 All-American Trap with Mitchel Loveless II
There are great shooters and great instructors and every now and then there comes along a great shooter who also happens to be a great instructor. That rare person comes to you in the form of Mitchel Loveless II, a sixteen time ATA All-American and 2011 Grand American All-Around Champion. In this new instructional DVD from Sunrise Productions, Mitchel, in his soft-spoken, easy manner gives you all the information you need to raise your trap game to the next level without radically changing your style.
Mitchel speaks primarily to the two-eyed shooter in his DVD but also explains a lot about his advice on how one-eyed shooters should approach gun mounts, hold points for your gun and eyes and much more. All the aspects of the trap disciplines are covered in detail by Mitchel in his same simple, no-nonsense approach. Let this established trap champion make you a better, more consistent trap shooter, too! 115 minutes.
---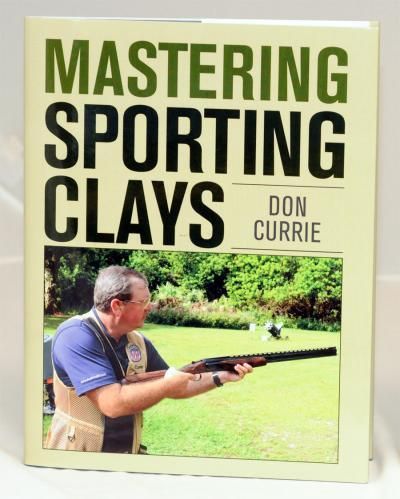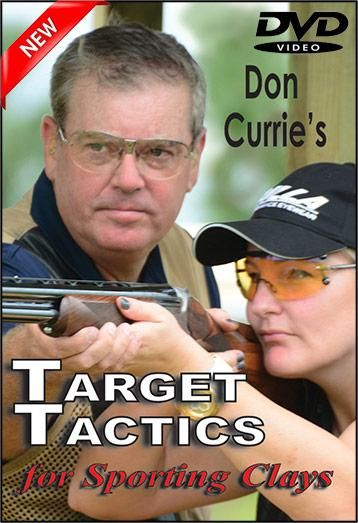 Don Currie > Book and DVD Combo
Don Currie's Target Tactics for Sporting Clays - DVD
$69.95 -- 90 Minutes
Mastering Sporting Clays - Book
$29.95 -- Hard cover. 221 pages.
$99.90 Total Value — now only $85.90
 (You save $14)
---