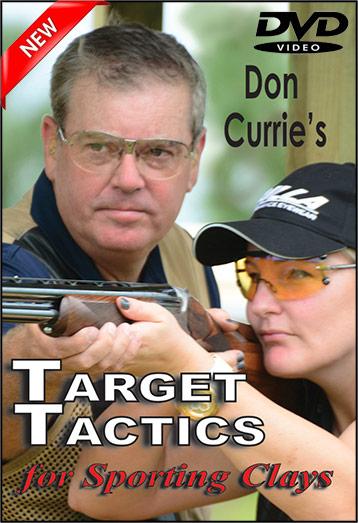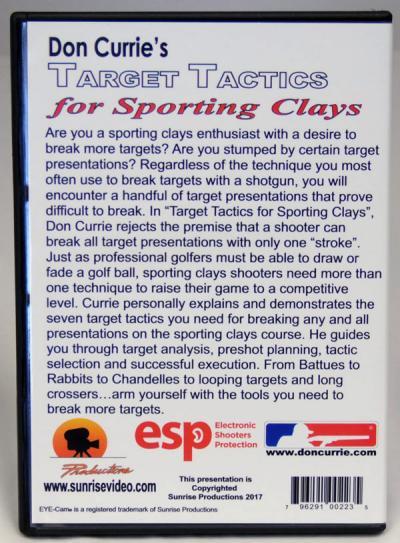 Don Currie's Target Tactics for Sporting Clays
Does your technique result in hits on most of the targets you face but certain presentations keep eluding you? Let Don Currie, Chief Instructor for the NSCA, show you how to achieve that next level in your sporting clays game. It is very difficult to reach your potential using just one target lead technique. Just like the pros, you must train and incorporate other techniques. Don teaches you the seven target tactics you need to hit those problem targets. These tactics are demonstrated on Long Crossers, Quartering Shots, Rabbits, Battues, Chandelles, Tower Shots, True Pairs, Report Pairs and many more presentations.
See shots from Don's point of view behind the gun with Sunrise Production's Eye-Cam®. This exciting new DVD will provide you with all the tools you need to win in sporting clays.
90 Minutes
---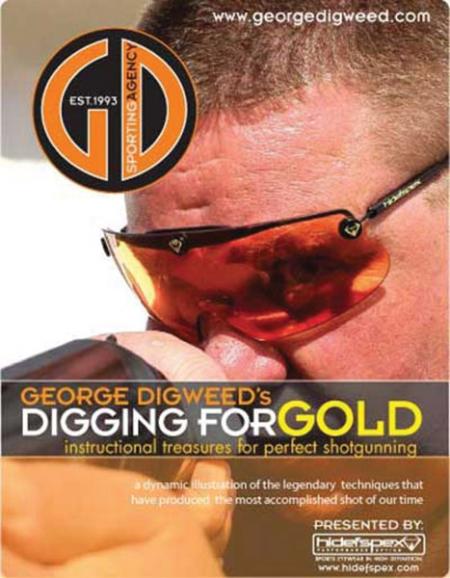 Digging For Gold by George Digweed
This 2-disc set from 19-time World Champion George Digweed demonstrates his winning approach to 10 different stands at the beautiful Orvis Sandanona Shooting Grounds. George takes you through each stand — teal, rabbit, chandelle, driven, on-edge, long-distance, pairs, quartering, battue and below-the-feet — using HiDefSpex® Diamond Vision lenses to show exactly what he sees and also uses the HiDefSpex® Shot Simulator to graphically explain his technique. Includes a one-on-one interview with George explaining his approach. Learn from the World All-Around Shotgun Champion!
2-DVD Set - 90 minutes
---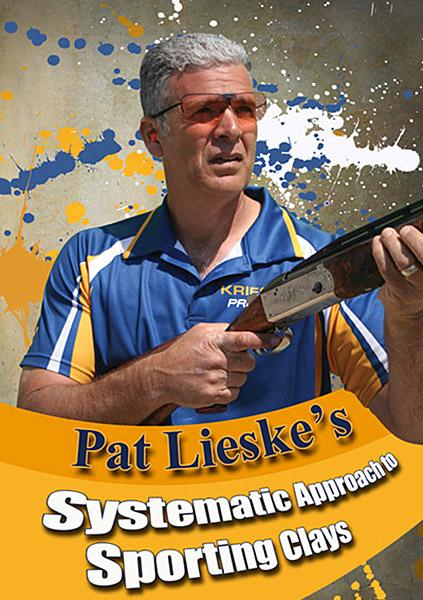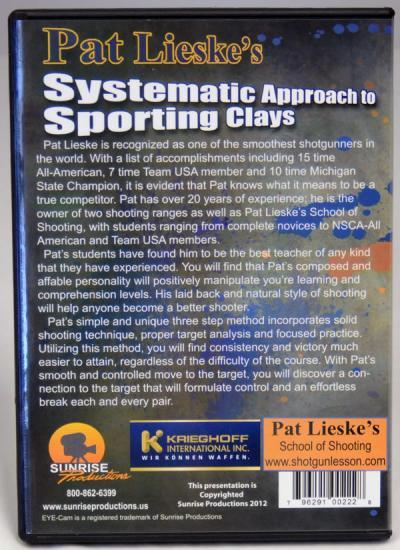 Pat Lieske's Systematic Approach To Sporting Clays
Pat Lieske is one of the smoothest shotgunners in the world, with a list of accomplishments including 15-time All-American, 7-time Team USA member and 10-time Michigan State Champion including 2014 NSCA Champ. As a competitor and owner of Pat Lieske's School of Shooting, as well as two shooting ranges, Pat knows what it means to be a shotgunner and a competitor. Pat's affable personality and his laidback, natural style of shooting make him a great teacher for newbies to Team USA members and All-Americans. His simple three-step method promotes solid shooting technique, proper target analysis and focused practice to help you find consistency and success, no matter how difficult the course. With Pat's Systematic Approach, you will discover a connection to the target that will lead to an effortless break each and every time. 90 minutes.
---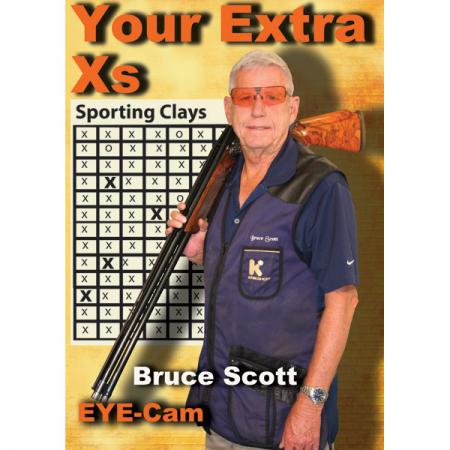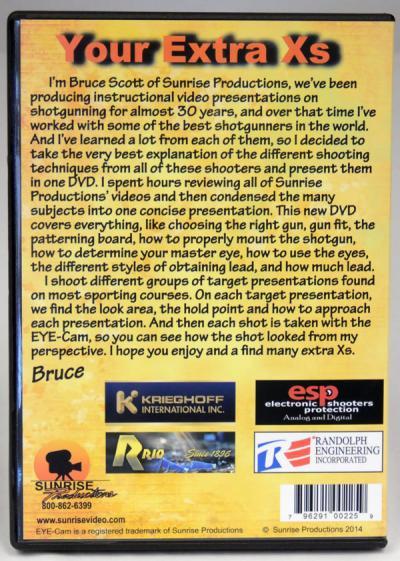 Your Extra Xs
Sunrise Productions, makers of the finest shotgunning instructional videos, has produced yet another winning DVD for the sporting clays enthusiast. Founder Bruce Scott has had the privilege of learning from and filming some of the greatest shotgunners on the planet while making their instructional DVDs. He has taken the best explanations of shotgunning technique and target presentation analysis from these greats and combined them into his latest video, Your Extra Xs. Bruce, in his own words and teaching style, provides the viewer with the most comprehensive and skill-enhancing DVD you could ever want. This new, unique and exciting DVD will help you elevate your sporting clays game. 120 minutes.
---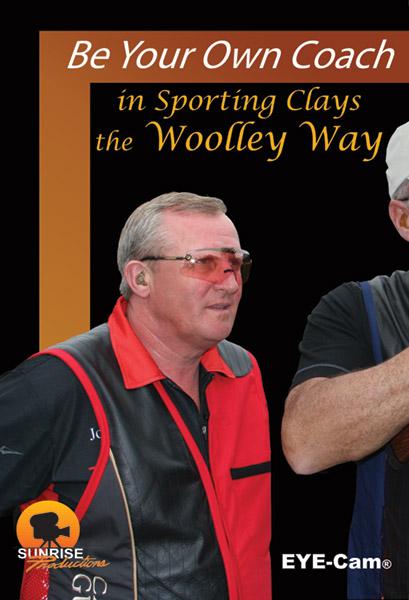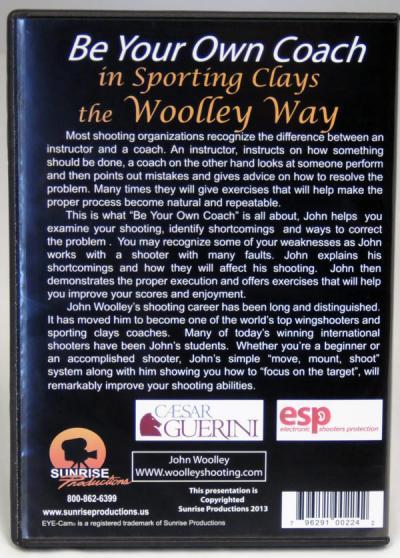 Be Your Own Coach In Sporting Clays
The Woolley Way with John Woolley
John Woolley is one of the most sought after sporting clays coaches.  Learn how to examine your shooting to identify shortcomings and ways to correct the problems.  Learn John's simple "move,mount,shoot" system.  90 minutes
John's knowledge and experience has helped many international shooters become winners, and John can help you become your own coach! In Be Your Own Coach, John demonstrates many of the common problems sporting clays shooters develop and how the exercises he offers and proper execution of the shots will help you improve your scores and your enjoyment of the game. Learn to make the process more natural and repeatable with John's simple "move, mount, shoot" system and his tips on how to focus on the target.
---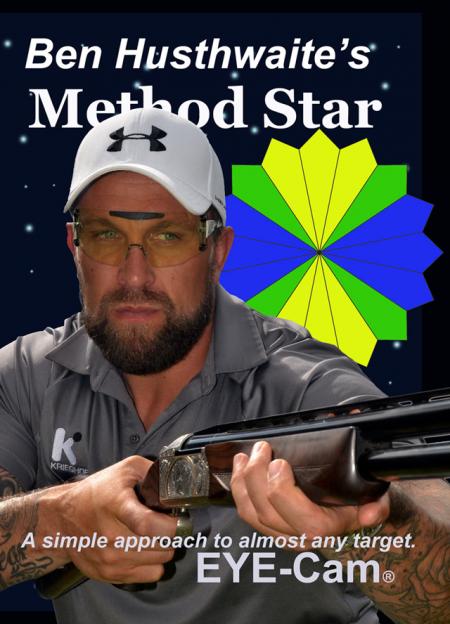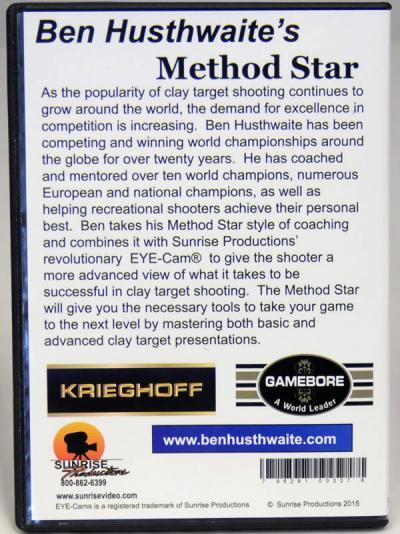 Ben Husthwaite's Method Star
For more than twenty years Ben Husthwaite has been winning World Championships in sporting clays around the world. Ben has coached National, European and World Champions and he can help you raise the level of your sporting clays proficiency, too. In this exciting DVD Ben's unique Method Star approach is combined with Sunrise Productions' exclusive EYE-CamR giving you the view necessary for you to be more successful in sporting clays. Let Ben and his Method Star approach help you master the targets you have been missing. 90 minutes.
---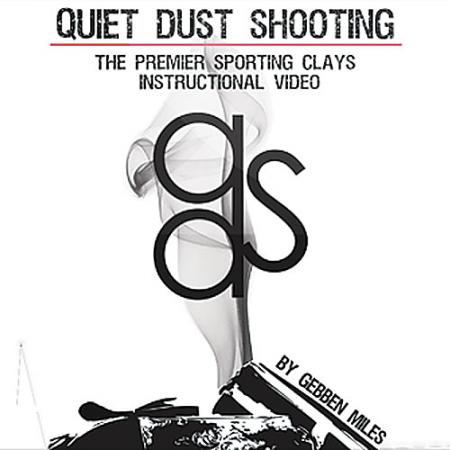 Gebben Miles Sporting Clays Instructional DVD
2009 NSCA Nationals Champion, Gebben Miles brings you his first sporting clays instructional DVD. Produced by Quiet Dust Shooting, Gebben demonstrates and explains his own techniques on the most common sporting clays target presentations. This 1 hour and 15 minute DVD uses integrated motion-graphics, professional grade camera work, looking-at-the-shooter and over-the-shoulder viewing angles to help illustrate Gebben's approach to sporting clays targets. The "Tools" chapter teaches the viewer how Gebben applies Sustained Lead, Collapsing Lead, his Quartering and Rabbit Technique, and other tools with names like Come To The Gun, The Catch Move, The Hold Out and much more. There's even a Bonus feature in which Gebben suggests an approach to a more positive mental game in your sporting clays shooting. With a champion like Gebben Miles teaching you, this DVD will certainly help improve your sporting clays scores. 75 minutes.
---