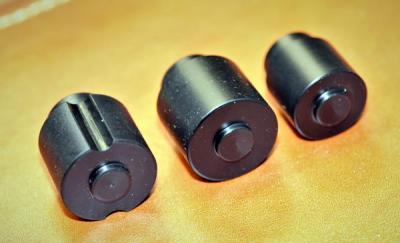 Remington Hi-Tech Magazine Follower
Machined from self-lubricating material, it attaches to magazine spring, moving shells out much faster. In some shotguns it eliminates feeding problems.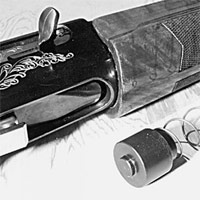 $14.95  New Lower Price - only $12.95
Please specify either "Smooth" or "Slotted" in the comments area during checkout.
Specify gauge below.
---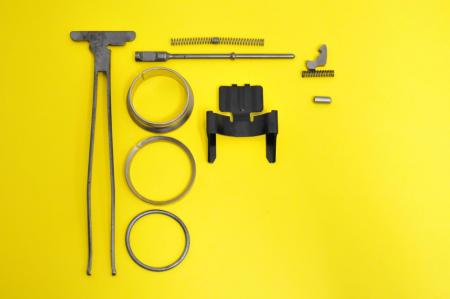 Remington 1100 & 11-87 Emergency Repair Kits
Don't leave home without this kit! Keeps you going in a tournament or in the field. You get: firing pin and spring, forend support assembly, barrel seal, piston/piston seal assembly, "O" ring seal, extractor spring, plunger, extractor and link. For 12 gauge only. Specify Remington 1100 or 11-87
---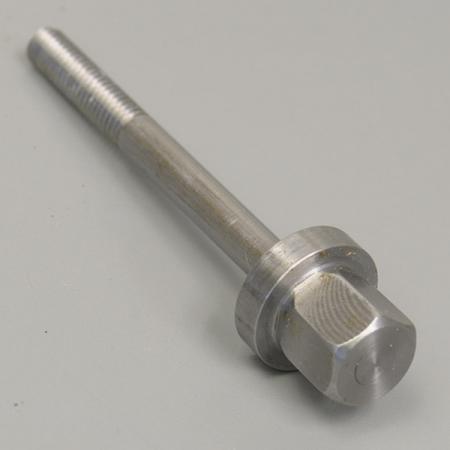 Model 12 Replacement Buttstock Bolt
The legendary Winchester Model 12 is a great gun still, but it had a butt stock bolt that could rust, corrode, seize up and work loose, which could cause stock damage. Besides being difficult to remove, the bolt would often break off, necessitating a costly repair. This new Replacement Buttstock Bolt eliminates those problems. Machined from rust-resistant chromium steel, its integral flanged head provides greater bearing surface, ensuring even pressure on the buttstock. The troublesome original slotted screw head has been replaced with a precision-machined standard 1/2" hex head so a standard socket can conveniently be used to attach and remove the buttstock. Replace your original Model 12's buttstock bolt using the original washer and your problems are gone. Helpful tip when using this item: Never overtighten any buttstock bolt, as it could lead to a cracked stock.
---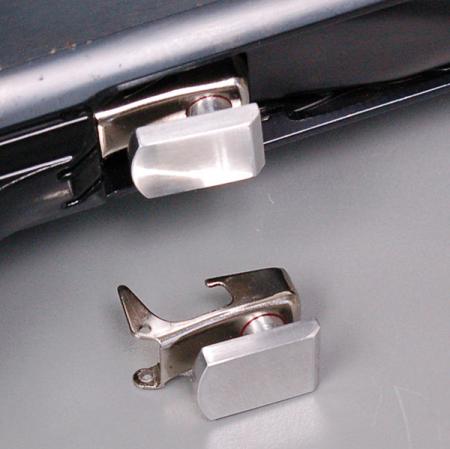 Extended Carrier Release Buttons
Now available for Remington 1100/11-87!
These Extended Carrier Release Buttons provide faster, easier closing of your bolt and loading of the second shell into the magazine tube of your 1100 or 11-87. Made from high-strength, aircraft-grade metal and designed to provide many years of smooth operation, they will be welcomed by both competition shooters and hunters. No more fumbling and lost time trying to hit that small factory release button. Installation instructions included. Fits all 11-87s and all full-frame 1100s, 12 and 20 gauge.
---
Gun Nut System
This clever system eliminates sloppy, gouged-out recoil pad screw holes. Now you can slip recoil pads on and off quickly to change pads, add spacers or do routine maintenance. This hardened-steel kit with black oxidized finish is easy to install with complete instructions.
---