Due to the extreme rise in shipping costs all shipments to Hawaii, Alaska, Puerto Rico and all other countries outside of the United States MAY BE SUBJECT to additional shipping fees at time of actual shipment. Oversized shipments may be subject to additional shipping fees.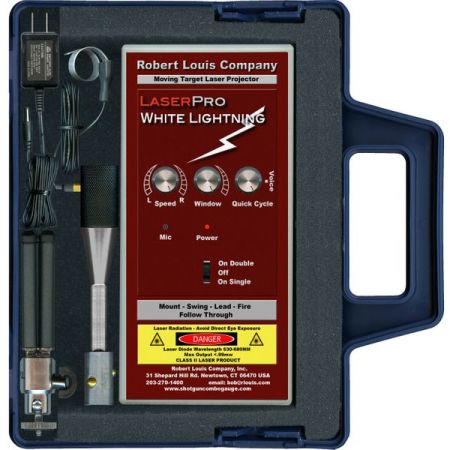 Laser Practice Shooting System
The Ultimate Practice Laser Shooting System
The laser practice shooting system will help you improve your shooting skills and attain that excellence we all strive for !
The system consists of the Laser Shooter (in Red) and the Laser Pro.  Additional gauges, Wobbler, and the Trap & Skeet Banner can be purchased separately below.
You can simulate any type of shotgun shooting such as, Trap, Sporting Clays, Skeet, Five-Stand or live bird shooting. Your building muscle memory and are able to practice your mount & swing (great for gun fit). Use the LaserPro if you want to shoot at a moving target , the Wobbler for more challenging arched or angled targets, and the Trap & Skeet banner to put you in the zone.
THE BASIC UPSS INCLUDES: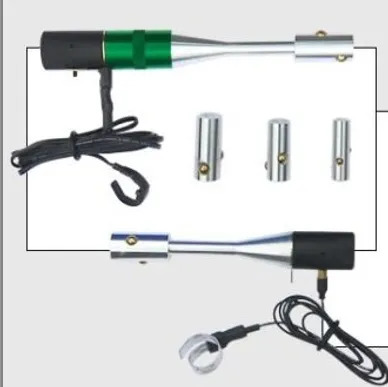 LaserShooter
This fits the muzzle of your gun and allows you to practice your swing, mount, lead, fire & follow. Comes with Red laser.
Your choice of one gauge (indicate your gauge preferences in the comments section at checkout).
For additional gauges see below "Red Laser Shooter Additional gauges".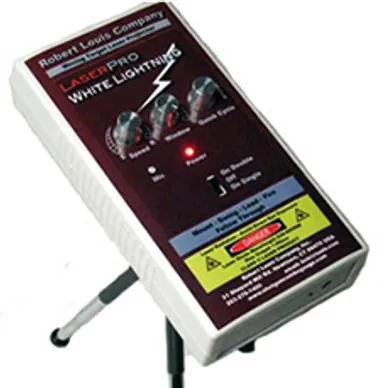 LaserPro
A moving target projector that projects 1 or 2 moving laser lights onto a wall. You select the speed, direction, window size and continuous cycle or voice command to practice shooting a variety of moving targets. The LaserPro attaches to a 6" swivel Tripod (included).
ADD ONS ITEMS (scroll down to add these products) Gun Fitting Products
Trigger Switch: $59.00
You'll need this switch to replace the standard ring finger that comes with the LaserShooter if you use guns that have a non-conductive coating including Benelli, Franchi, Blaser and Browning.
The Wobbler: $189.00
The Trap & Skeet Banner: $370.00
Additional Gauges: $33.00
---
Plus $30 domestic shipping
---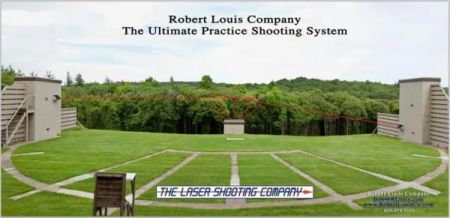 Trap & Skeet Banner
A 9' x 54" Trap & Skeet banner makes you feel in the zone. Hang banner on wall, set up your LaserPro so you can shoot moving targets just like being on the range.
Plus $15 US shipping
---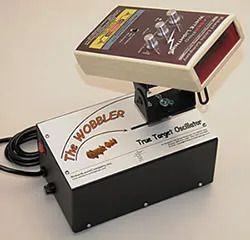 The Wobbler
An Oscillating device that moves the LaserPro back & forth achieving an even larger variety of arched & more realistic moving targets than the LaserPro alone.
Plus $15 US shipping
---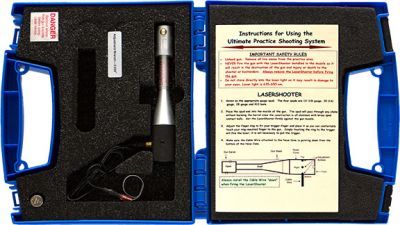 Red Laser Shooter
The Red LaserShooter works great in conjunction with the Shotgun Combo Gauge. When fitting your gun, use the Red LaserShooter to know exactly where your shot will be centered.  Using the LaserShooter is easy.  Put the shaft into your gun's muzzle and touch the finger ring to the gun's trigger.  Center your shot with a swing and mount or simply aim at the supplied target.   Activate the laser, see if the gun is shooting where the shooter is looking and make adjustments accordingly.  When fitted correctly, the swing and mount will naturally point the gun at the target.
The All-Gauge Red LaserShooter (RLS-4), along with the Shotgun Combo Gauge, are considered basic equipment for the gunsmith, stockmaker,  gunfitter or multi-shotgun shooting enthusiast.

Important Note:
For Benelli, Blaser and Franchi shotguns you must purchase the TRIGGER SWITCH add-on.
Those triggers are coated and will not transmit the standard touch trigger signal without this add-on.
Plus $30 shipping
---
Available gauges: 12, 20/16, 28, 410
Please indicate your gauge preferences in the comments box at Checkout.
Additional Gauges are also available separately at $33/ea.
---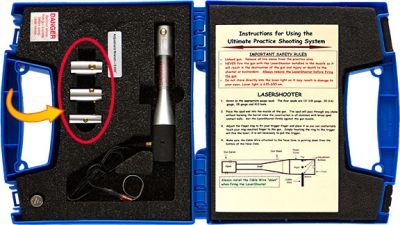 Gauges Only - for laser systems
--- Trigger Switch
This is an add-on to the Red Laser Shooter and the Laser Pratice Shooting System. It is only required for Benelli, Blaser and Franchi shotguns.
You must use this TRIGGER SWITCH for these laser products to work because those gun triggers are coated and will not transmit the standard touch trigger signal.
--- Extra Drop Meter
This extra drop meter is an add on for the Shotgun Combo Gauge.
Includes one Drop Meter only.
Shotgun Combo Gauge not included.
This item incurs an additional $4 shipping charge added to your order.
---