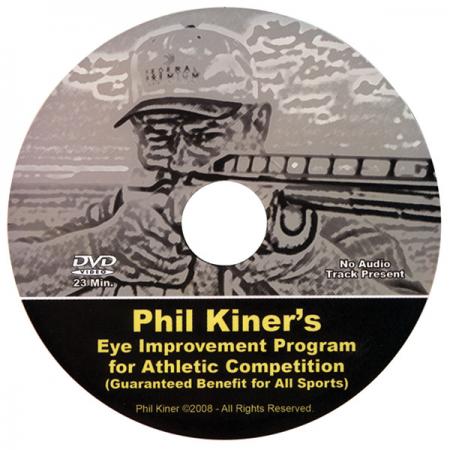 Phil Kiner's Eye Improvement Program
Phil Kiner's Eye Improvement DVD includes a series of seven exercises to benefit all sports competitors. These valuable and helpful visual training exercises will put you on the right path to more accurate, faster and smoother target acquisition. A multi-time All-American trapshooter, Phil knows the importance of obtaining the best visual acquisition for every target. 23 minutes.
As the winner of 38 Grand American trophies and the first shooter in ATA history to break 400x400 on Championship All-Around targets – and the only one in the world to do it twice – Phil has built his target-breaking career around the best visual program he could employ. He has broken 35 100-straights from the 27-yard line and brings over 34 years of experience to this program. Just follow the visual instructions and perform the exercises, and you will soon start seeing all your targets faster and with greater detail and will hit more of them solidly.
23 minutes.
---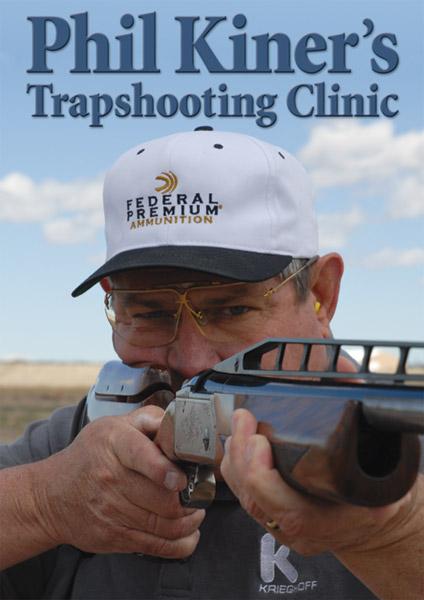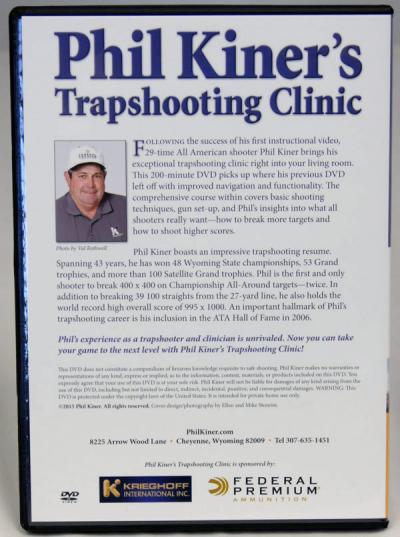 Phil Kiner's Trapshooting Clinic
Following the success of his first video, ATA Hall-of-Famer Phil Kiner brings his new and improved Trapshooting Clinic right into your living room. This comprehensive DVD covers all the elements of singles, doubles and handicap – from basic gun set-up and shooting technique to Phil's insights into what all shooters want – how to break more targets and shoot higher scores. 203 minutes.
Back In Stock Special
---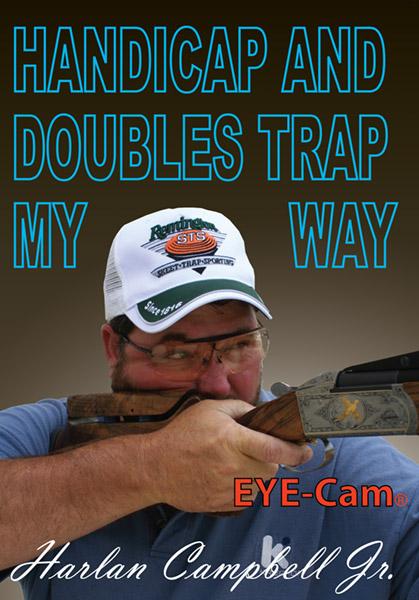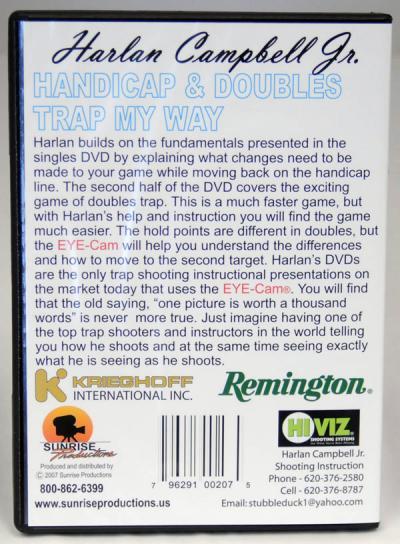 Handicap & Doubles Trap My Way
Highly successful Coach Harlan Campbell, Jr. is also a 22-year ATA All-American Trap Team member (4 as Captain) and winner of numerous Grand American titles (including two HAA and one HOA). In this new DVD, he explains how to take Doubles and Handicap targets with ease. Harlan's first video (TTSMW1) showed the fundamentals and gun setup to assure success on Singles; this video expands on that base to help you conquer Doubles and Handicap. EYE-CAM® lets you see what Harlan sees so you can be on your way to better shooting quickly! Don't fear Doubles — dominate them! 90 min. DVD only
---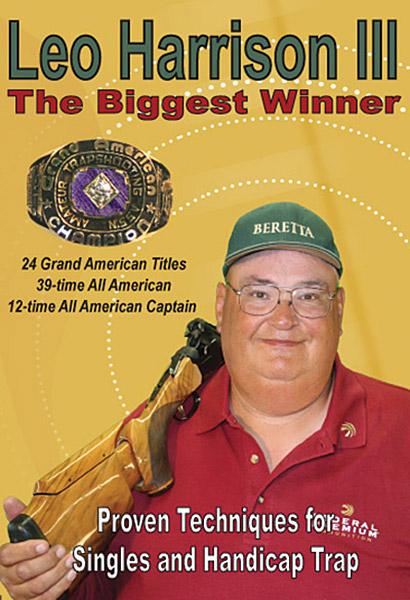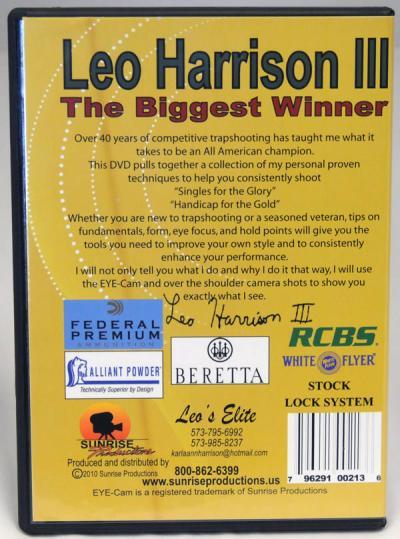 Proven Techniques For Singles & Handicap
With Leo Harrison III. This DVD provides the viewer with Leo's advice based on his many years of experience as one of the game's premier champions. Leo explains his techniques and tips on fundamentals, eye and gun hold points, focus, form and much more, helping you gain the tools you need to improve your style and enhance your performance.
Uses EYE-CAM®, 90 minutes.
---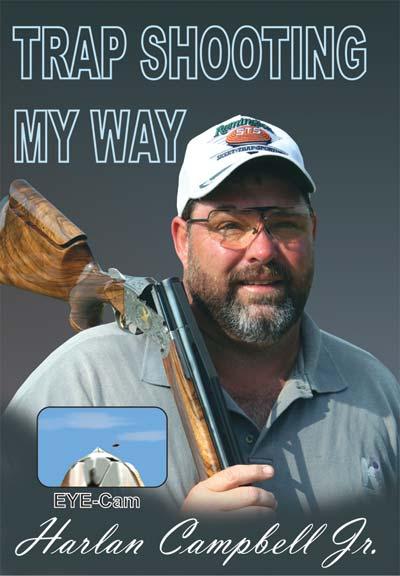 Trap Shooting My Way with Harlan Campbell, Jr.
The video we've all been waiting for! Harlan Campbell, Jr. says, "Shooting better is a choice, and that choice is yours." With this DVD, you can have coaching on your trap Singles from one of the most sought-after instructors in the country. Harlan has been on the ATA All-American Trap Team 22 years (four as Captain) and has numerous Satellite Grand and Grand American titles, including two HAA and one HOA. He spends 200 days a year teaching others to shoot trap well. He can show you a better way of shooting and a new way of thinking so you can take advantage of your skills and training. The EYE-CAM® makes every shot seem as if you are there. 90 minutes.
---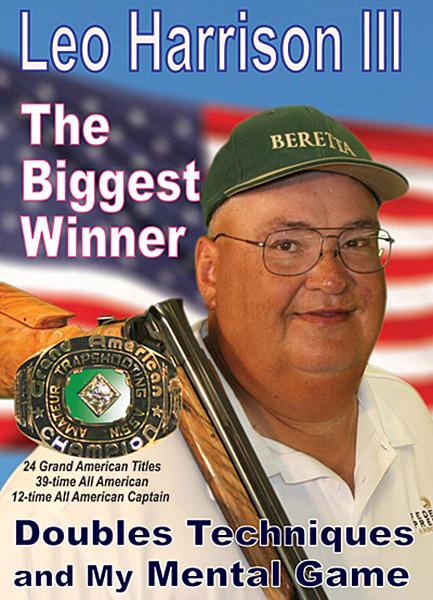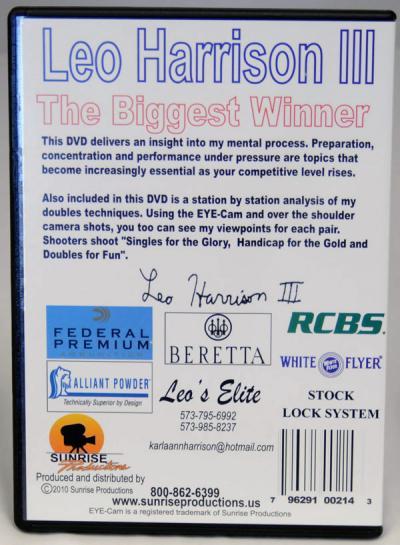 Doubles Techniques & My Mental Game
This DVD gives you a close look at the mental processes Leo ascribes to preparation, concentration and performance under pressure, and it includes station-by-station analysis of his Doubles techniques. Sunrise Production's exclusive EYE-CAM® shows you exactly what Leo sees in both real-time and slow-motion. Over-the-shoulder views are also used. With more than 40 years of competitive shooting experience, Leo Harrison is one of the most successful trapshooters in the history of the sport.
70 minutes
An ATA Hall-of-Fame inductee, Leo has won 24 Grand American titles and been Captain of the All-American Team 12 times. In 2010, he set a new ATA HOA record at the Grand American, breaking 992x1000 targets. Whether you are new to trapshooting or a seasoned veteran of the game, let Leo coach you to better performance and better scores!
---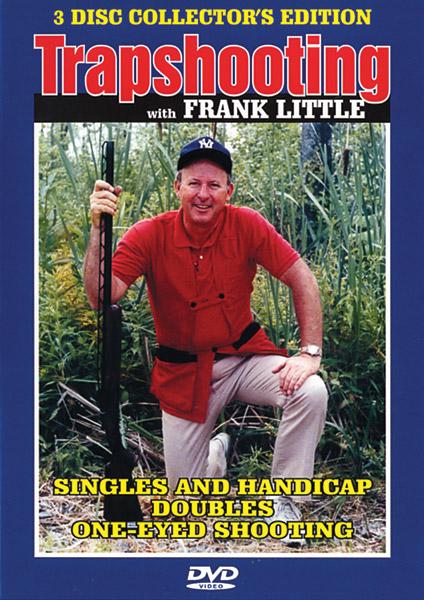 Trapshooting With Frank Little
3-DISC COLLECTOR'S EDITION
These DVDs are packed with know-how from one of the greatest trapshooters of all time. Frank Little was one of the most-consistent winning champions in the history of the ATA. Frank made 30 All-American teams as well as a U.S. Olympic team, was inducted into the ATA Hall of Fame, won 39 state championships, 53 Grand American trophies and maintained a 99% average for 21 years! Here is your chance to learn from the legendary Frank Little. Sit in on conversations with Frank as he discusses the basic and fine points of all aspects of the trap game.

Watch this 3-disc set and start breaking better scores in trap with the coaching of the great Frank Little!

This DVD set will teach you what Frank suggests in Singles, Handicap and Doubles. Frank provides the viewer the advantage of his many years of championship performance and tells you just how to become a trap champion, too. This Collector's Edition Set gives you Frank's best suggestions on: Hold Points for Eyes and Gun, Equipment, Choke for all the trap games and Foot Positions for all the posts. There is even a disc dedicated to the one-eyed trapshooter. There is so much information on this unique set you'll find yourself watching it over and over again to be sure you got it all. 3 hrs. 3-disc set. DVD only
---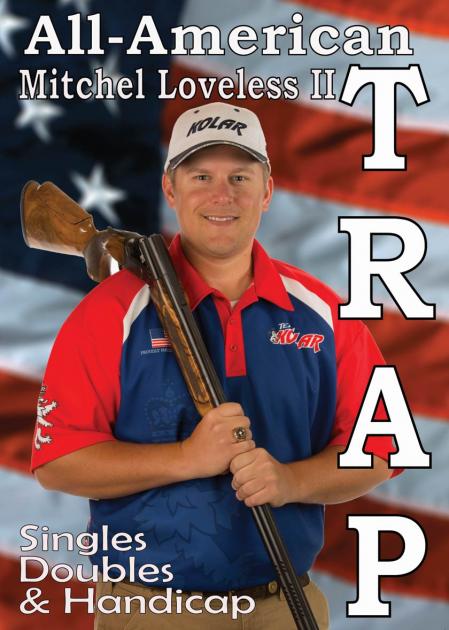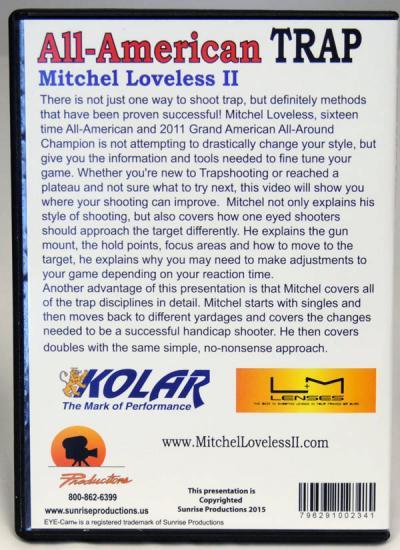 All-American Trap with Mitchel Loveless II
There are great shooters and great instructors and every now and then there comes along a great shooter who also happens to be a great instructor. That rare person comes to you in the form of Mitchel Loveless II, a sixteen time ATA All-American and 2011 Grand American All-Around Champion. In this new instructional DVD from Sunrise Productions, Mitchel, in his soft-spoken, easy manner gives you all the information you need to raise your trap game to the next level without radically changing your style.
Mitchel speaks primarily to the two-eyed shooter in his DVD but also explains a lot about his advice on how one-eyed shooters should approach gun mounts, hold points for your gun and eyes and much more. All the aspects of the trap disciplines are covered in detail by Mitchel in his same simple, no-nonsense approach. Let this established trap champion make you a better, more consistent trap shooter, too! 115 minutes.
---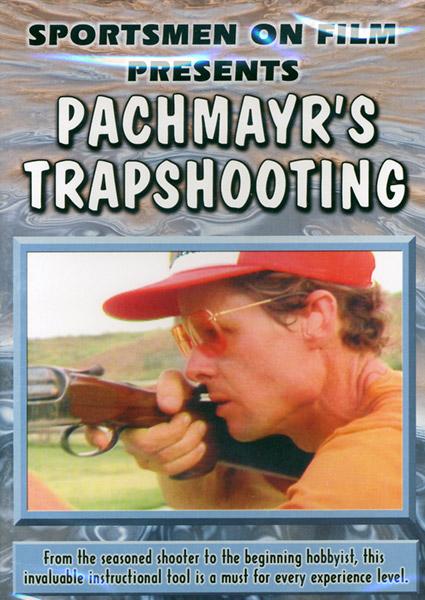 Pachmayr's Trapshooting With Ken Robertson
NEW LOWER PRICE!
Learn the fundamentals of stance, gun hold, eye hold, timing and lead — improve your trapshooting skills at your own pace. Ken's station-by-station instruction will have you improving your technique in no time! 40 minutes.
---