Due to the extreme rise in shipping costs all shipments to Hawaii, Alaska, Puerto Rico and all other countries outside of the United States MAY BE SUBJECT to additional shipping fees at time of actual shipment. Oversized shipments may be subject to additional shipping fees.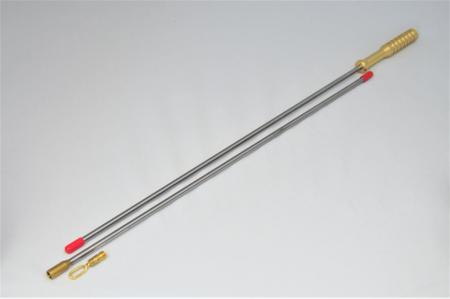 2-Piece Shotgun Rod
With an oversized, non-swivel, solid brass handle and precision milled stainless steel rod, this 2-Piece Shotgun Rod will provide years of superior service, making your barrel cleaning an easier chore. This sturdy rod comes with a removable brass patch holder for all gauges. Threaded brass tip accepts all standard thread accessories. 36" overall length.
---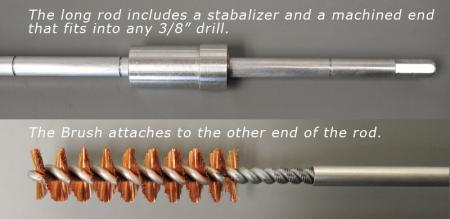 Big Brute - NEW & IMPROVED!
The Big Brute cleaning system includes cleaning rod and stabilizer. Clean your barrel as never before. Cleaning Rod is made from structural-grade tempered aluminum that is light, strong and will not mar your bore. The tip of the cleaning rod that slips into your 3/8" drill is machined with a hex configuration to eliminate slippage. The Stabilizer is precision-machined from aircraft-quality aluminum to perfectly align the cleaning rod in your shotgun's bore. This superior cleaning system is available in 12 gauge only.
Heavy Duty Brass brushes sold separately.
Handle Set sold separately. Use your Big Brute without a drill with this new handle accessory.
Optionally get the Full Set option that includes the Big Brute Rod, Stabilizer, Brush and Handle accessory.
(save $11.90)
---