SHIPPING AND CUSTOMER SERVICE WILL BE CLOSED
FOR SYSTEM UPDATES ON NOON THE 19TH THROUGH THE 25TH
ORDERS PLACED BETWEEN THESE TIMES WILL SHIP ON APRIL 27TH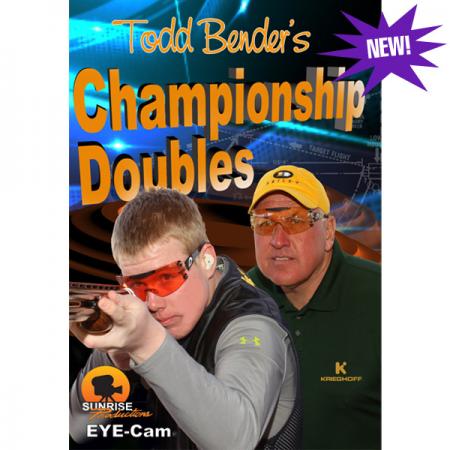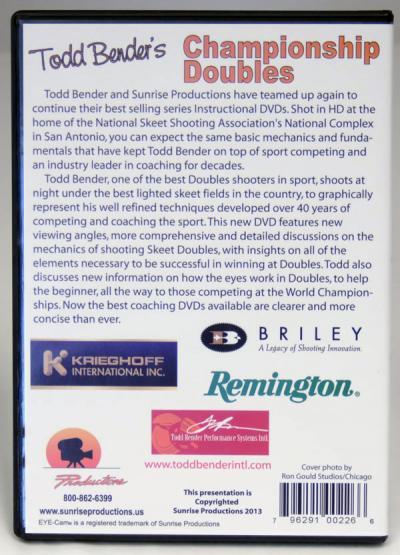 Todd Bender's Championship Doubles - NEW!
NSSA Hall of Famer Todd Bender gleans from his many years of coaching to teach you how to become the best Doubles shooter you can be.  This DVD includes new camera angles and more d detailed  and comprehensive explanations on the mechanics and finer points of shooting championship level doubles in skeet.  90 minutes.
Todd Bender and Sunrise Productions have once again teamed up to bring you the latest in their popular series of shooting instructional DVDs. NSSA Hall of Fame inductee, Todd Bender, one of the best Doubles shooters in skeet, gleans from his many years of coaching to teach you how to become the best Doubles shooter you can be in Todd Bender's Championship Doubles. Shot in HD and under the lights at the National Shooting Complex in San Antonio, TX, headquarters of the National Skeet Shooting Association and the National Sporting Clays Association. This exciting new DVD includes new camera angles and more detailed and comprehensive explanations on the mechanics and finer points of shooting championship level Doubles in skeet. How to use your eyes to their fullest potential, how to find the best hold point, break point, achieving transition and much more are explained in depth in Todd Bender's Championship Doubles. If you're serious about your skeet game, you have to watch this DVD! 90 minutes