Due to the extreme rise in shipping costs all shipments to Hawaii, Alaska, Puerto Rico and all other countries outside of the United States MAY BE SUBJECT to additional shipping fees at time of actual shipment. Oversized shipments may be subject to additional shipping fees.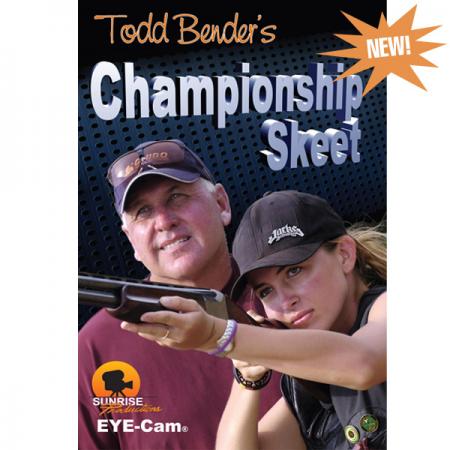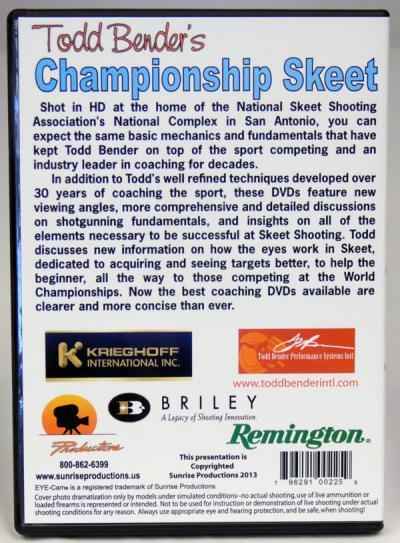 Todd Bender's Championship Skeet - NEW!
Perennial All-American and NSSA Hall of Fame inductee, Todd Bender has once again teamed with Sunrise Productions to bring you his latest skeet shooting instructional DVD, Todd Bender's Championship Skeet.With 30 years of coaching experience around the world, Todd fills this new DVD with more instruction, advice and tips for the home viewer looking to elevate his or her skeet game to the next level. 150 minutes
In addition to Todd's excellent explanations of the game's basic mechanics and fundamentals Todd Bender's Championship Skeet includes a greater amount of detailed and comprehensive discussions on all the elements to become successful in skeet shooting. You will find more and better information on how to use your eyes than ever before in this new DVD. Greater detail on why it's so important to be a "lower body shooter". New Field Over-View camera angles are used as well as the now famous, EYE-CAM® helping you understand in greater depth Todd's instructions. Take advantage of Todd's many years as an elite level competitive shooter and renowned skeet shooting coach right in your own home with Todd Bender's Championship Skeet.