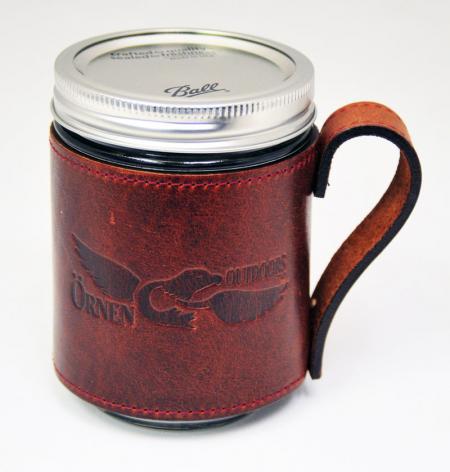 Leather Mug Hugger
This unique 16 oz. Mason jar comes with a high-quality removable leather wrap and handle to hold your favorite beverage. It not only looks great, it's good for the environment.
You keep your Mason jar instead of disposing of another landfilling plastic bottle. Makes great gifts for all occasions as well as camping and sporting events.
1 Mug   $18
4 Mugs $65
---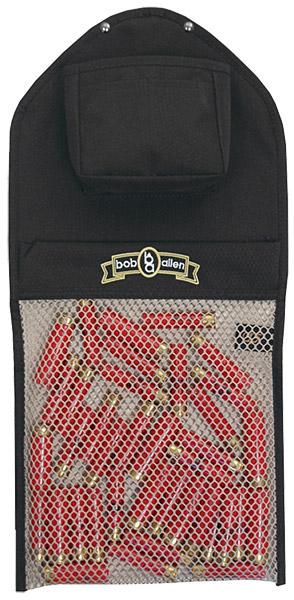 Bob Allen Handicap Pouch
This popular, tough, nylon combo pouch holds one box of 12-gauge shells plus loops for two extra shells. The easy-fill and empty spring-clip bag holds 100 empties. Made of heavy-duty nylon and riveted for extra strenght. Clip secures it to your belt. Available in black only
---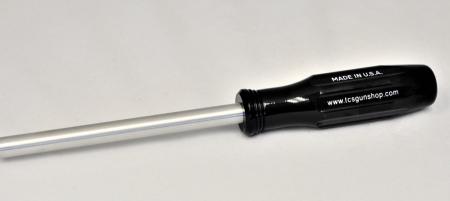 Shotgun Cleaning Rod
A 34" one-piece cleaning rod made from high-strength aluminum with an ergonomically designed handle for a strong grip. The lightweight, one-piece construction means you will never again have to look around for the threaded end. Fits all standard threaded brushes.
Made in the U.S.A.
---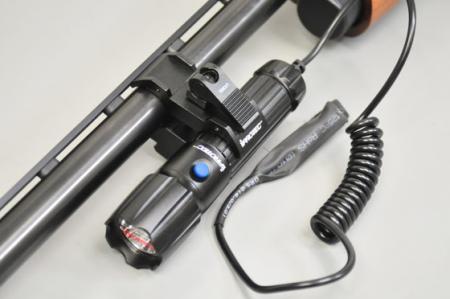 Shotgun Light/Laser Combo
This Light/Laser Combo mounts easily without the need for tools onto 12 or 20-gauge shotgun barrels. The Combo emits 110 lumens of intense white light. The four unique light and laser modes are controlled with the pressure switch or the standard end cap used for normal flashlight use. Light Modes include: Light (110 lumens), Laser (Red), Light & Laser and Strobe. This useful Light/Laser Combo is made of aircraft-grade aluminum, water and impact resistant, designed with a tactical self-defense edge and has a patented rail system for mounting additional accessories. Operates on 3 AAA batteries (included). Fits plain and vent-ribbed barrels.
---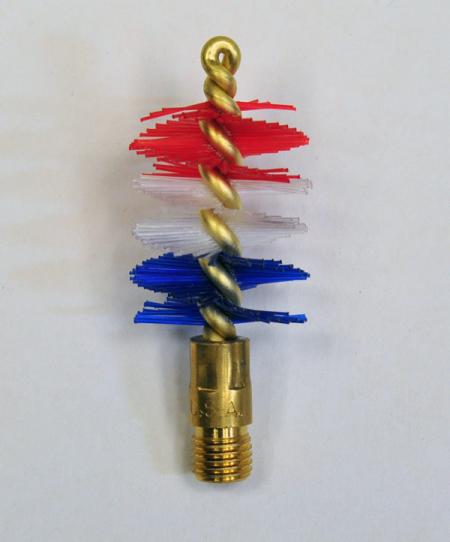 Patriot Heavy-Duty Nylon Bore Brushes
Fits Choke Tube Crud Buster, Crud Commando and Mopster.
Will not scrath non-chromed barrels.
Available in 12 or 20 gauge. Made in the U.S.A.
We also carry the Mopster, a 43" long wooden handle with 36" wooly section that includes this brush in 12 guage.
---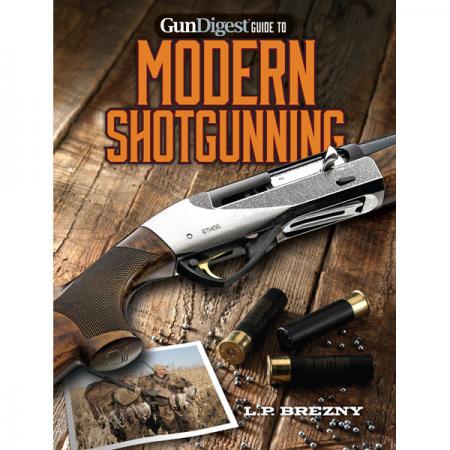 Gun Digest Guide to Modern Shotgunning by L.P. Brezny
Think you know a lot about shotguns? Well, be prepared to think again. Popular Shotgun Sports Contributing Editor, L.P. Brezny has compiled much of his years of knowledge on the ubiquitous scattergun and related topics into a new book, Gun Digest Guide to Modern Shotgunning. This large soft-bound volume brings the reader 220 pages of hardcore facts, charts and stories of Brezny's time in the field researching and testing guns, loads, chokes and more. Gun Digest Guide to Modern Shotgunning is filled with everything you would want to ask L.P. about your shotgun if you had him sitting in your living room. Brezny's Gun Digest Guide to Modern Shotgunning will make you appreciate the shotgun even more for all it can do.
Order your copy of L.P. Brezny's Gun Digest Guide to Modern Shotgunning today! Soft cover, 220 pages.
---