Due to the extreme rise in shipping costs all shipments to Hawaii, Alaska, Puerto Rico and all other countries outside of the United States MAY BE SUBJECT to additional shipping fees at time of actual shipment. Oversized shipments may be subject to additional shipping fees.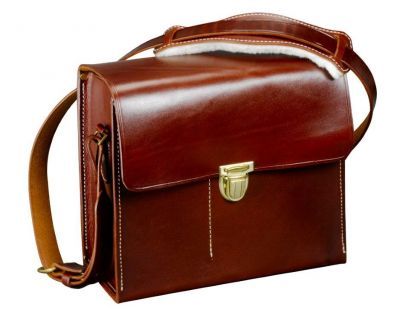 Deluxe Trap & Skeet Shooting Bag (open box)
This premium leather carrier features two compartments for ammo and accessories.
Large compartment holds up to six boxes of shotgun shells. Smaller compartment is for accessories or additional boxes of shells.
Features solid brass hardware and fleece lined shoulder pad for comfortable carrying.
12"w x 11"h x 5.5"d
OPEN BOX - 1 AVAILABLE - REGULARLY $199.00
FINAL SALE ITEM
---
Handicap Pouch
Popular combo pouch holds one box of live 12-gauge shells in the top and 2 extras in shell loops on either side of box. Also, 100 empties in the spring-locked bottom compartment. Easy to fill and empty.
Made of rip-stop nylon and heavy-duty mesh. Heavy-duty nylon web belt loop keeps it secured to your belt.
Black only.
CLOSEOUT
---