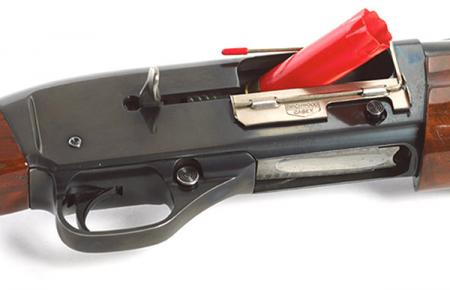 Save-It™ Shell Catcher
Capture empty hulls from your semi-automatic shotgun and prevent flying shells from distracting you or others. Easy to use! Wire catcher locks in up position for singles or down for doubles and pulls out easily for hunting. Mounts with two-sided, self-adhesive tape. Adjustable for different loads and guns. For 12-gauge semiautos only.
Available in Lefthand only
(image is of the righthand model).
CLOSEOUT PRICE
---
Handicap Pouch
Popular combo pouch holds one box of live 12-gauge shells in the top and 2 extras in shell loops on either side of box. Also, 100 empties in the spring-locked bottom compartment. Easy to fill and empty. Made of rip-stop nylon and heavy-duty mesh. Heavy-duty nylon web belt loop keeps it secured to your belt. Black only.
---
Silicone-Treated Gun Wipes + Spray
Sack-Ups Gun Wipes are silicone-treated to prevent rust and wick away moisture from firearms. Their fabric and tubular construction make it easy to wipe dirt and grime off your guns, knives and work tools. They provide a protective coating for your firearm in the field or in storage. Keep your firearms looking new and protect them from rust with these silicone-treated gun wipes.
The bottle of silicone treatment can be used to re-apply that protective coating to your gun wipes.
---